AutoStore from Kardex will optimize order fulfillment at German wholesale company
8 October 2021, Company News
Neuburg an der Kammel, Germany, September 02, 2021 – To manage steadily growing customer orders and prepare for future demands, Arbeitsschutz-Express in Leipheim, Germany invests in a new automated storage and retrieval system powered by high-speed robots. Arbeitsschutz-Express commissioned the intralogistics expert Kardex to plan and implement AutoStore, a high-performance, space-saving storage and retrieval solution featuring The Black Line, a newly released line of AutoStore modules designed for high-demand systems.
Started as a family business in 1983, Arbeitsschutz-Express today is a medium-sized wholesale company that has established itself as one of the German market leaders in e-commerce. The company sells consumer and business safety apparel and equipment at a retail location in Leipheim, Germany and via their website. A main product category, "Work Shoes" was becoming a logistics challenge for the company. Storing thousands of different-sized shoeboxes in conventional shelving and picking individual orders manually while trying to manage an escalating online business and growing product range had resulted in complex processes, long walking distances and lengthy search times. After juggling this for many years, Arbeitsschutz-Express decided to rethink operations.
"In order to be able to continue supplying our customers reliably and fast, a new, optimized order fulfillment concept was essential," says Philipp Wiedemann, Managing Director of Arbeitsschutz-Express. "The best possible utilization of storage space, fast provision of the requested items and maximum reliability were the most important requirements for us in terms of the new storage system. As a proposed solution, the experienced team at Kardex offered us an AutoStore solution precisely tailored to our needs. The overall package was so convincing that we placed the order with Kardex just three months after the first contact."
Compact, efficient, tailor-made and future-proof
AutoStore systems offer the highest storage density of any automated storage and retrieval system on the market. Their flexible, tailor-made design fits even the most unusually shaped facilities, and allows for expansion at any time without interrupting daily operations.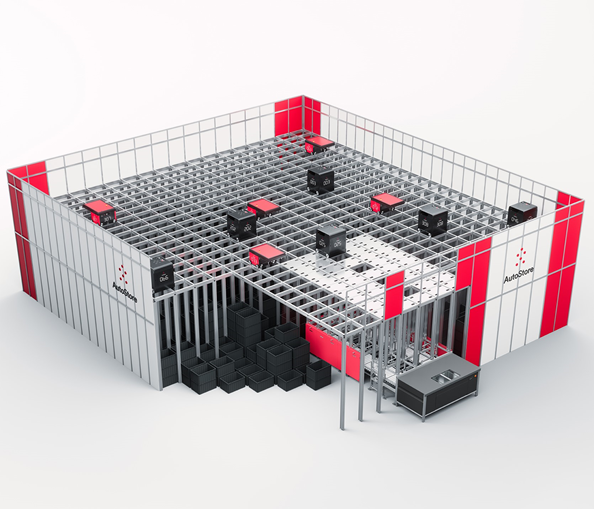 Within AutoStore, an aluminum cubic grid holds vertically stacked storage bins and provides tracks for autonomous robots to move along. Intelligent, battery-powered robots continuously pick up bins, rearrange them and present them at goods-in and order picking workstations (called Ports). With exterior dimensions of 17.7 x 25.6 inches, AutoStore bins are available in three heights (8.7, 13, and 16.7 inches). AutoStore bins are molded from high-grade polyethylene (HDPE).
Scalability is key
Shoeboxes are always labeled the same way using the shorter side of the box. Therefore, it is essential to store shoeboxes upright in an AutoStore bin - this ensures retrieved items are scanned before picked. For this reason, Arbeitsschutz-Express will use 30,000 of the tallest bins in the first expansion stage, combined with 26 Black Line AutoStore robots. The system offers a total capacity of approximately 54,000 bins. Six Carousel Ports are used for picking and replenishment and can switch between these two applications at the push of a button. Arbeitsschutz-Express can match which Ports are used when and for what application, aligning AutoStore with its existing processes. If performance requirements increase in the future, Arbeitsschutz-Express can easily and quickly add robots. Three Port frames at the front of the AutoStore system serve as preparation for future expansion with Conveyor Ports used for replenishment. The Kardex MCC Warehouse Management System (WMS) controls the various warehouse systems and optimizes the connecting processes.
"By investing in an AutoStore solution, we will be able to meet the increased demands in logistics, make optimal use of our available space and expand the internal logistics capabilities at our Leipheim site in a future-proof manner. We look forward to a strong partnership with Kardex as the basis for long-term success," Wiedemann continues.
The 25th AutoStore Black Line system worldwide
To date, 24 Black Line systems have been put into operation worldwide – Arbeitsschutz-Express in Germany will mark the 25th implementation.
The new AutoStore Black Line complements the Red Line as a product line for systems requiring ultimate dynamics. Thanks to its exchangeable BattPack™ Lithium-ion battery technology, the Black Line, among other benefits, operates 24/7. The lifting mechanism is located centrally inside the robots to carry bins within the robot body. This has several advantages. For example, bins with a height of 16.7 inches (normally too high for a Red Line robot to manage) can now also be handled. Another advantage is the sleek design - Black Line robots require less space on the grid, allowing for faster, more sophisticated driving patterns. High-speed and quick acceleration are a significant benefit for larger grids where driving distances are longer.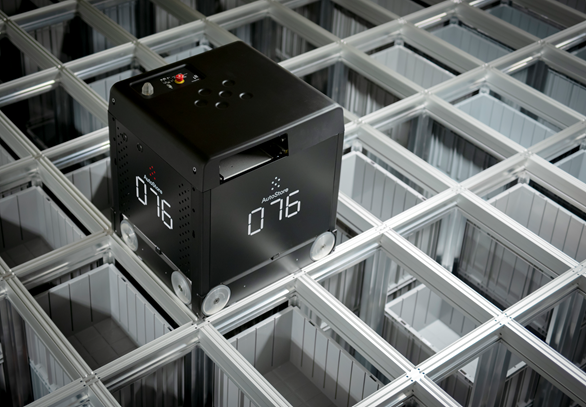 Contact
In case of questions, please fill in our contact form.