Kardex Introduces a New Way of Picking at Promat 2023
14 December 2022, Company News
Kardex, a world leading manufacturer of automated storage and retrieval systems (ASRS), is presenting a new and innovative way of picking at Promat 2023. Showcasing its latest developments in natural user interface technology, Promat visitors will experience a new way of picking as part of a live demonstration in Chicago, March 20 – 23 in booth 4325.
Visitors will learn how to take their picking experience to the next level at the Kardex booth at this year's Promat. Using a pick station, Kardex will present a new product feature that projects the relevant picking information directly onto the surface of the access opening.
"With this new feature we are following the trend of intuitive and user-friendly operation with a visual picking display feature that responds to movements and guides the operator, thus enabling ergonomic, fast, error-free picking," says Tobias Flury Head of Technology.
Through the use of digital tools, visitors will experience Kardex's entire portfolio of solutions including vertical lift modules, vertical carousel modules, vertical buffer modules and AutoStore systems come to life using augmented reality. Comprehensive software packages as well as service and modernization concepts complete the portfolio.
Furthermore, Kardex is a global AutoStore partner. The powerful and space-saving solution for fast and efficient processing of small parts orders fits ideally into the existing solution portfolio of Kardex AG.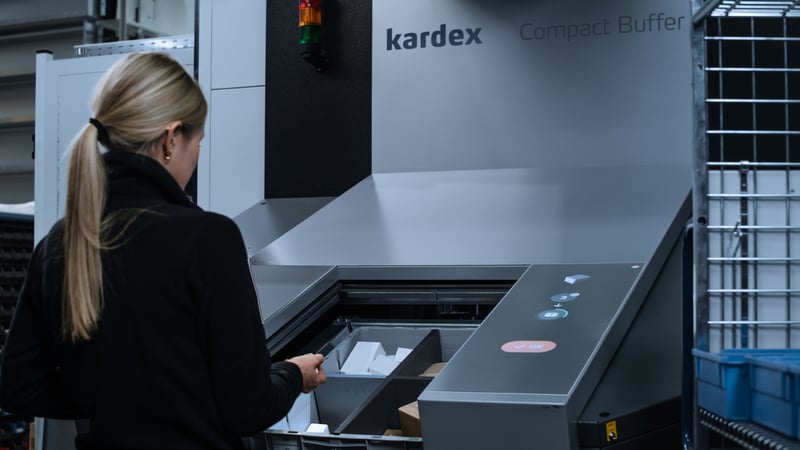 About Kardex
Kardex is a leading intralogistics solution provider of automated storage, retrieval and material handling systems. With two entrepreneurially managed divisions, Kardex Remstar and Kardex Mlog, the Kardex mission is to provide solutions and services to increase the efficiency in storing and handling of goods and materials on a global scale.
The two divisions serve as partners over the entire life cycle of a customer's product or solution. From project analysis to realization and service, Kardex helps improve a customer's performance every step of the way. With
its
three own production plants in Germany and one in North America
,
Kardex ensures high quality solutions. To maintain and strengthen its competitive position within technological innovation and outstanding customer loyalty, Kardex is investing in research and development, its supply chain, the expansion of its service organization as well as in new technology via acquisitions. Kardex actively partners with global leaders who share the same values and complement the Kardex solutions including AutoStore, Rocket Solution, Intertex and Sumobox.
Kardex employs 2
,
000 team members across 30 countries and has installed over 140,000 industry-specific solutions worldwide.
Contact
Please fill in the contact form and our experts will help you to find the best solution tailored to your needs.