Kardex Reveals Warehouse Trends for 2023
23 January 2023, Company News
As the intralogistics market continues to adapt to the world and economic conditions, the Kardex Trend Radar shows emerging trends for 2023.
The Kardex Trend Radar monitors trends to ensure Kardex and its customers stay at the forefront of innovation. Based on in-house resources, industry expertise, as well as global data, Kardex presents its warehouse insights report for 2023. The report discusses the latest intralogistics trends, illustrates the importance of utilizing new technology such as robotics and predictive analytics, and focuses on which modern tools will ensure warehouses stay efficient and productive in 2023 and beyond.
Companies globally are looking at ways of maximizing their in-house resources, and experts expect global warehouse automation sales will reach an estimated 39 billion euros by 2027 at a compounded annual growth rate of approximately 15%.
(1)
Kardex uses sophisticated technologies to globally monitor over 2,700 machines through its Kardex Connect software system. Industry leaders expect the adoption rate of predictive and prescriptive analytics for supply chain innovations and technologies will jump from 28% to 79% in the next five years.
(2)
"As unprecedented obstacles interrupt warehouse processes, Kardex closely monitors warehouse challenges and technology trends and adapts solutions to ensure customers' facilities remain state-of-the-art," said Ruud Hoog, Senior Director Business Development.
Warehouse managers can utilize the Kardex Warehouse Insights report to understand intralogistics trends and discover tangible warehouse tools that ensure a cutting-edge facility and prepare for future operations.
To view the report: Trends Shaping Intralogistics in 2023 click here.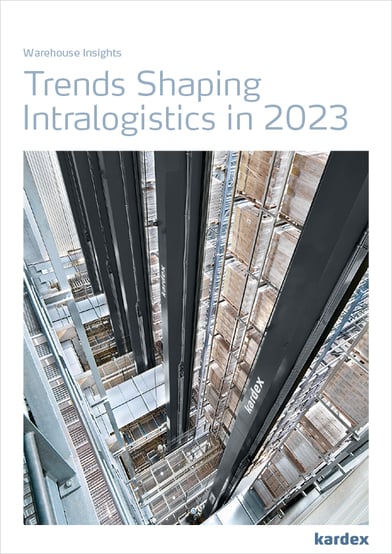 About Kardex
Kardex is a leading intralogistics solution provider of automated storage, retrieval and material handling systems. With two entrepreneurially managed divisions, Kardex Remstar and Kardex Mlog, the Kardex mission is to provide solutions and services to increase the efficiency in storing and handling of goods and materials on a global scale.
The two divisions serve as partners over the entire life cycle of a customer's product or solution. From project analysis to realization and service, Kardex helps improve a customer's performance every step of the way. With three own production plants in Germany and one in North America Kardex ensures high quality solutions. To maintain and strengthen its competitive position within technological innovation and outstanding customer loyalty, Kardex is investing in research and development, its supply chain, the expansion of its service organization as well as in new technology via acquisitions. Kardex actively partners with global leaders who share the same values and complement the Kardex solutions including AutoStore, Rocket Solution, Robomotive, Intertex and Sumobox.
Kardex employs 2,000 team members across 30 countries and has installed over 140,000 industry-specific solutions worldwide.
Contact
---
(2)
Evolution to Revolution. Building the Supply Chains of Tomorrow. 2022 MHI Annual Industry Report.