The Kardex Vertical Buffer Module is the best solution for fast-growing product ranges with limited storage space.
A scalable shelf system with a movable mast transports the bin and slots seamlessly into existing processes and building layouts.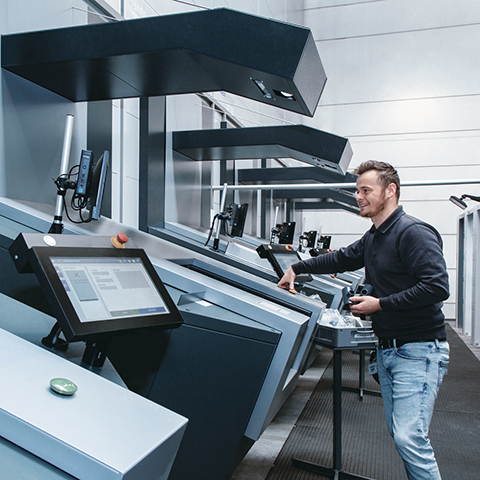 Customer needs
Precise, simple, and fast order picking
Ergonomically-friendly working conditions
Flexible with numerous storage possibilities
Simple integration
Modular and scalable
Controlled access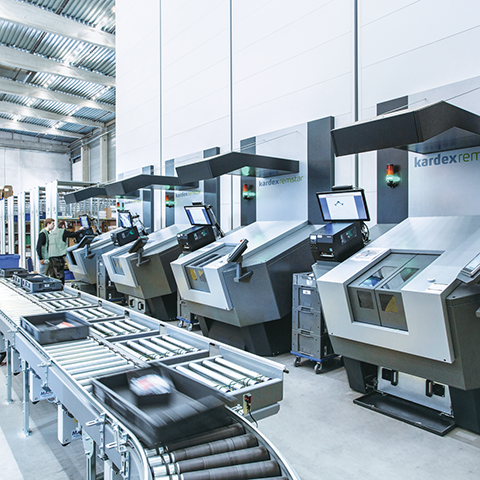 Benefits at a glance
Makes order picking efficient
Uses pick-to-light systems to create a precise, simple, and fast order picking process
Eliminates energy recovery times
Picks quickly, regardless of the unit size
Combines high storage capacity and the ability to process a wide range of items with fast access times and minimum storage volume per item
Adapts perfectly to existing processes and building dimensions - it's both modular and scalable
Vertical Buffer Module LR 35 - Pick small parts quickly and efficiently
High order picking performance is based on bin cycles and the number of order lines. The LR 35 optimizes the order picking performance of small parts and lightweight goods while guaranteeing high precision and energy efficiency. A station can consist of one or more units.
Whether being used to supply a production line with a wide range of products; as buffer storage in the assembly area; or for picking slow-moving parts in the distribution warehouse, it significantly improves productivity and decreases energy consumption. It uses only a third of the energy compared to other systems. The Vertical Buffer Module is flexible! It simply integrates into existing processes and is easily incorporated into production and software systems.
The LR 35 features ergonomically designed picking stations. This simplifies the picking process and improves overall working conditions. At each access opening, items tilt at a 20-degree angle while the goods-to-person principle moves goods to the next picking station.
How does the Vertical Buffer Module work?
Components to create the perfect solution
Offering complete flexibility, the LR 35 optimally adapts to existing equipment and allows various access openings and picking stations. Up to four access openings can be fitted to the end face, right side, or left side of each unit.
Options for individual requirements
The greatest flexibility for every need
The Vertical Buffer Module is extremely flexible and offers a broad range of optional features. The modular design precisely configures to a diverse range of needs and integrates additional components at any stage, both before or after installation.
The LED pointer reliably identifies the retrieval and storage positions at picking stations. It is a fixed, high-power LED light source that uses a controllable mirror to generate a spot of light projected directly into the retrieval/storage compartment of a bin/tray. Without the need for a preset calibration, every single compartment position individually selects items to remove. The operator easily identifies what they need to do by following the specific highlighted spot of light.
The indicator located on the control panel display helps the operator identify storage locations in the bin/tray. This eliminates the need for a time-consuming search! The position indicator quickly and reliably guides the operator to the right place.
Located externally, LED lighting forms a canopy shape above the access openings to simplify the picker's tasks. This is especially helpful when warehouse lighting conditions are poor and switches on and off via the user display.
Based on individual fire protection requirements, it is possible to install gas nozzle pipes or sprinkler pipes for gas or water extinguishing systems in the area of the field reinforcements.
An externally located socket and various interfaces (2x USB, 1x Ethernet) are available for the picking station.
Innovative unit software with a capacitive touchscreen
For optimal performance in the warehouse
The unit software optimized for the Vertical Buffer Module meets the highest standards: it offers a modern operating concept with a newly developed, capacitive touchscreen for even faster and more intuitive operation. The associated software is web-based and therefore works with a wide range of hardware.
The main operating features include:
Modern and intuitive to operate
Touchscreen
Virtual keyboard
External keyboard possible or Barcode scanner connection (USB)
Operating using new browsers possible
Multilingual
Tabelle mit 3 Einträgen anzeigen
| | |
| --- | --- |
| Performance | High order picking performance based on bin cycles and number of order lines. Max. total load 63 metric tons |
| Bins | Standard mini-load system compatible bins 600 x 400 mm (up to 640 x 440 mm) Load 35 kg | bin |
| Width | 1.920 to 10.470 mm |
| Depth | 2.350 mm |
| Height | 3.000 to 12.000 mm for bins measuring 600 x 400 mm |
| Unit vertical steps | 100 mm steps |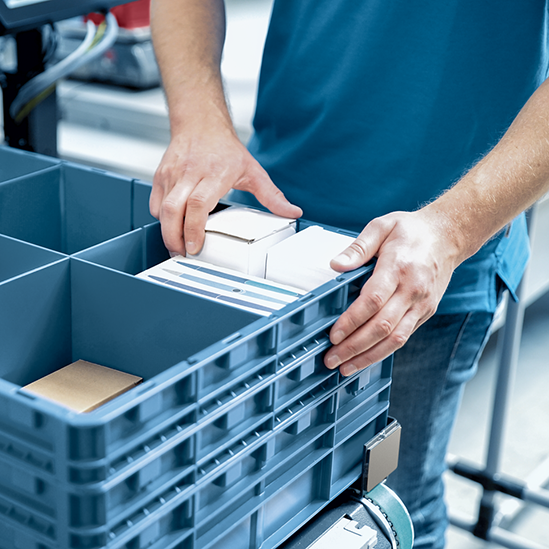 An innovative storage box - flexible and robust to fit warehouse needs
The Kardex VBM Box is a storage and transport box that includes a divider system. With dimensions 640 x 440 x 140 mm, the box is perfect for the Vertical Buffer Module LR 35. Storage boxes flexibly divide and quickly adapt at any time using transverse and longitudinal dividers. The height extends in a 50 mm grid using push-on frames.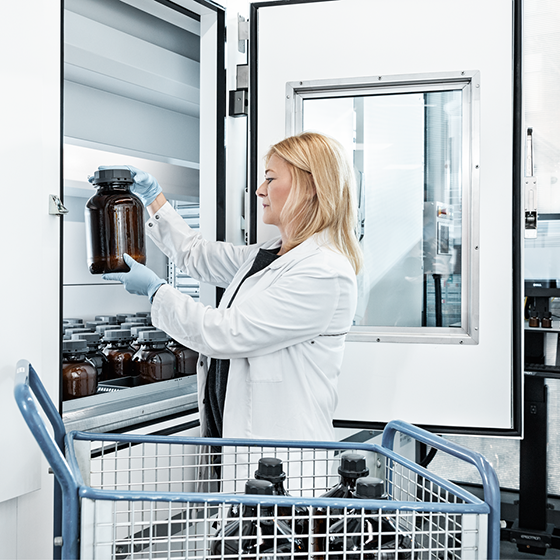 Controlled environment
Parts, raw materials, and products often require special storage conditions. Depending on your individual needs, we supply four optional controlled environment solutions. We individually integrate these into your storage and retrieval system and, as a result, your sensitive goods are always optimally protected.
Do you want more information on the Vertical Buffer Module?