Böllhoff Produktion GmbH optimizes assembly processes with fully automated Kardex solution
24 July 2023, Company News
The Böllhoff Group sets new standards for efficient intralogistics processes at its production site in Bielefeld, Germany. By implementing a fully automated, space-saving as well as transparent buffer storage solution from Kardex, individual requirements of the facility are taken into account.
As an international supplier of fastening, assembly and system technology, the Böllhoff Group employs more than 3,200 people at 45 locations worldwide. The family-owned company started 1877 and impresses with its innovative strength and customer proximity.

Böllhoff Produktion GmbH in Bielefeld is one of a total of 14 production sites worldwide. Automatic assembly machines are used in production to assembly various components into high-quality finished parts. Currently, the replenishment bins with these components are stored on pallets directly in production. A manually picked 30-hour buffer is right next to the machines. This process requires a lot of effort, occupies a lot of production space, and makes it difficult to keep track of the items in stock. In addition, finished goods are stored on pallets.
For more efficient and optimized processes at the assembly machines, Böllhoff Produktion GmbH decided to cooperate with the intralogistics experts Kardex, BITO-Lagertechnik and P.S. Cooperation. The goal was to reduce the floor space required for material replenishment and to minimize search times and error rates. Another requirement was to centrally buffer the finished goods and automatically retrieve them once a certain batch size is reached.
The Kardex solution includes an extremely space-saving as well as fully automated buffer storage, which is seamlessly connected to the conveyor technology and the LEO locative automated guided vehicle system (AGV) from BITO-Lagertechnik and controlled via e-labels from P.S. Cooperation.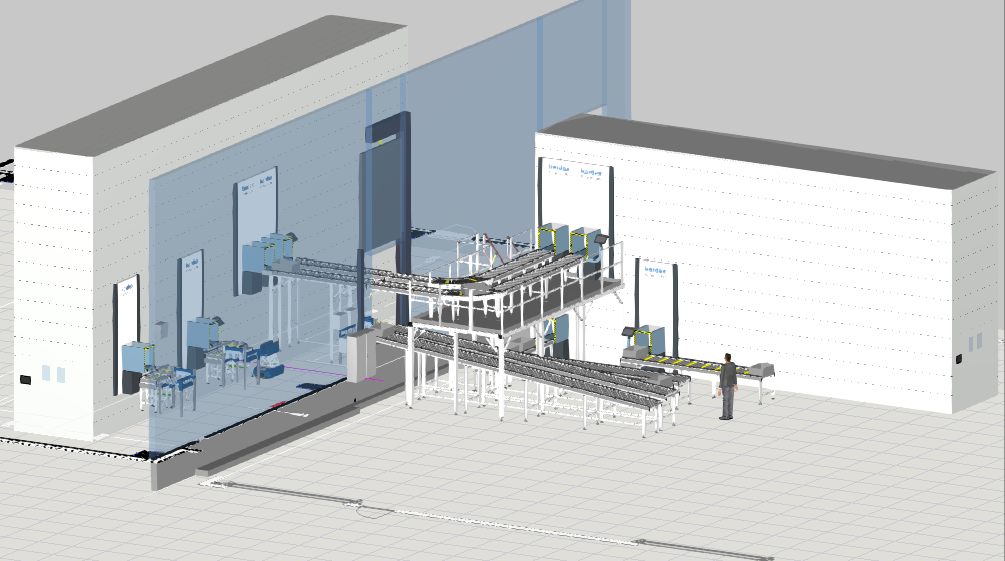 Transparent storage & fully automated retrieval of production parts
Two Kardex Compact Buffers, each with four access openings, are the foundation of this fully automated storage solution. Semi-finished parts consisting of purchased parts as well as the company's own articles are provided in bins and automatically stored in one of the two Kardex Compact Buffers via the conveyor system. Each bin has its own ID number as well as an accompanying paper with further information such as article number, batch and quantity. At the Kardex Compact Buffer, this information is captured by installed scanners. The Kardex JMIF software reports the data about which bin with which articles is stored at which storage location to the higher-level autonomous warehouse management system.
As soon as these items are needed in production, the employees report the demand to the system via e-label. The goods are then transferred to the conveyor system in a fully automated process. From there, a LEO transporter picks up the bins and transports them to the correct assembly machine.
Space-saving storage of finished parts
The finished parts manufactured in production must be buffered in a space-saving manner until delivery. The two Kardex Compact Buffers store a total of approximately 1,900 bins on a small footprint of only 67 m². Employees request a BITO LEO transporter, which picks up the finished boxes at the assembly machine and transports them to the Kardex Compact Buffer, where they are stored fully automatically.
As soon as a batch reaches a certain number of pieces, the automatic retrieval of these finished orders starts and the shipping can be prepared.
Automatic transport via BITO LEO Transporter
The transport routes between the production machines and Kardex Compact Buffers are automated by a total of nine LEO locative transporters. The lithium batteries of the vehicles are charged fully automatically and can thus operate around the clock. The strength of the BITO LEO system is its simple set-up and operation as well as the efficient transfer system for bins.
Each production machine is equipped with a LEO locative double station and one LEO Smart Box Pro. The LEO transporters drive through the station and automatically deliver bins with semi-finished parts or raw materials while simultaneously picking up bins with semi-finished parts or finished parts. This happens without stopping the AGV and without direct human intervention. This makes the BITO LEO system very efficient. The LEO locative transfer stations can pick up and buffer several bins one after the other.
The direct connection of some LEO locative transfer stations with the conveyor technology of the Kardex Compact Buffer ensures automatic bin exchange with the system.
In addition, the LEO Smart Box Pro is directly integrated into the Böllhoff network. Thus, the LEO locative transporters receive the transport orders via the P.S. Cooperation control software and provide feedback as soon as a transport has been completed successfully.
C
ommunicat
ing
with the fire protection gates
,
the LEO Smart Box prevents the gates from being blocked by the LEO transporters
in the event of
a fire.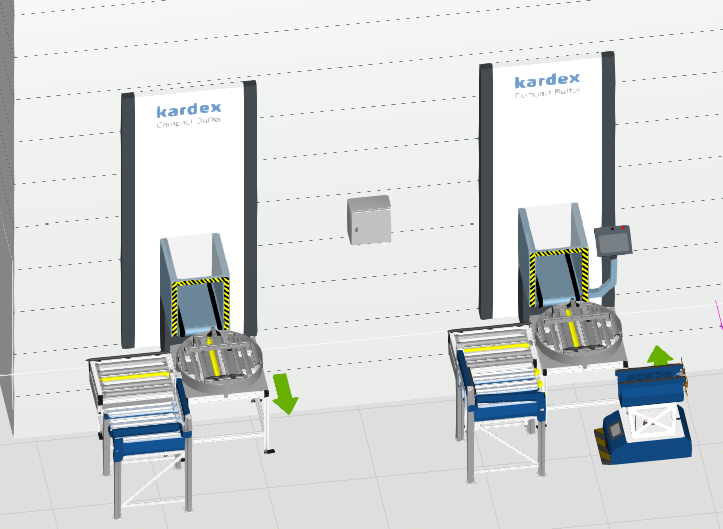 Efficient processes
"With the Kardex Compact Buffer, we have chosen a solution that enables us to store and retrieve our articles in a fully automated and centralized manner. The transparency, space savings and process reliability will bring us enormous benefits and flexibility. "One-Peace-Flow" - likewise a big step into the digital future."
Dipl.-Ing. (FH) André Koring, Head of Intralogistics, Böllhoff Produktion GmbH
About Kardex
Kardex is a leading intralogistics solution provider of automated storage, retrieval and material handling systems. With two entrepreneurially managed divisions, Kardex Remstar and Kardex Mlog, the Kardex mission is to provide solutions and services to increase the efficiency in storing and handling of goods and materials on a global scale.
The two divisions serve as partners over the entire life cycle of a customer's product or solution. From project analysis to realization and service, Kardex helps improve a customer's performance every step of the way. With three own production plants in Germany and one in North America Kardex ensures high quality solutions. To maintain and strengthen its competitive position within technological innovation and outstanding customer loyalty, Kardex is investing in research and development, its supply chain, the expansion of its service organization as well as in new technology via acquisitions. Kardex actively partners with global leaders who share the same values and complement the Kardex solutions including AutoStore, Rocket Solution, Robomotive, Intertex and Sumobox.
Kardex employs 2,000 team members across 30 countries and has installed over 140,000 industry-specific solutions worldwide.
Contact
Please complete the
contact form
for help with any questions and further information about AutoStore and Kardex.