Cutter & Buck automates Fulfillment Center in Washington with AutoStore empowered by Kardex
23 September 2022, Company News
The
AutoStore
storage solution will enable Cutter & Buck to achieve outstanding customer service levels and quality goals, while increasing storage capacity within their existing facility.
Montgomery, OH, September 23, 2022
– As a leading apparel manufacturer and distributor, Cutter & Buck is known for high quality clothing crafted for active lifestyles, engineered for exceptional versatility. Originally founded on Seattle's working waterfront, Cutter & Buck clothing is perfect for work, travel, date night, golf, walking, boating, hiking, entertaining, and showing fan support for a favorite MLB, NFL, or NCAA College or University Team. Increased sales through its own website, other e-commerce retailers, point of sale locations at golf courses, resort destinations, licensed product Fan Shops, and corporate apparel has led to consistent company growth and increased inventory levels within its fulfillment operation.
To accommodate this growth, Cutter & Buck will implement an AutoStore system from Kardex in their location in Renton, Washington to support their apparel picking and fulfillment operation. Cutter & Buck selected AutoStore, an automated cube storage technology solution, empowered by Kardex for the speed and density of the solution. The Kardex Control Center software (WCS) will drive the AutoStore goods to person fulfillment solution.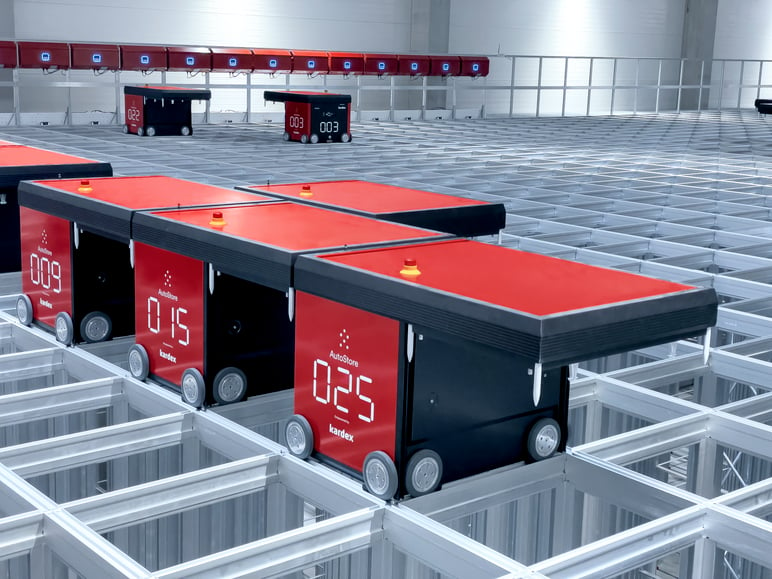 AutoStore is a fully automated and intelligent goods-to-person storage and retrieval system offering industry leading product storage density. Bins are stacked vertically in a grid and retrieved by intelligent, battery-powered vehicles that travel on top of the grid system, sorting, carrying and delivering bins to the respective workstations (ports), where a variety of warehouse operations can be performed (picking, replenishment, inventory control, etc.) by warehouse personnel. The flexible, tailor-made system fits even the most unusually shaped facilities, allowing the grid to be placed around columns, on mezzanines and on multiple levels. The bins are stacked neatly on top of each other in a condensed grid-style system, increasing storage capacity up to four times and performance up to 10 times that of traditional storage methods. AutoStore can easily adapt to changing order fulfillment requirements through a flexible configuration of the robots, ports and quantity of bin locations.
About Cutter & Buck
Founded on Seattle's working waterfront, the words "Cutter" and the "Buck" were chosen to symbolize the Pacific Nothwest region, where the sea, represented by a Cutter, and the mountains, represented by a Buck, meet and live-in harmony.
Their iconic clothing is perfect for work, travel, golf, walking, boating, hiking, entertaining, and for showing team pride and fan support for MLB, NFL, or NCAA College or University Teams. Cutter & Buck is committed to sustainable products, operations, and production. Their iconic clothing, engineered for exceptional versatility, can be found online at cutterbuck.com and through e-commerce retailers.
Cutter & Buck is a proud subsidiary of New Wave Group, AB. Their sister brands in North America include Ahead USA, Au Clair Gloves, Craft Sportswear, Kosta Boda Art Glass, and Orrefors Crystal.
About Kardex
Kardex is a leading intralogistics solution provider of automated storage, retrieval and material handling systems. With two entrepreneurially managed divisions, Kardex Remstar and Kardex Mlog, the Kardex mission is to provide solutions and services to increase the efficiency in storing and handling of goods and materials on a global scale.
The two divisions serve as partners over the entire life cycle of a customer's product or solution. From project analysis to realization and service, Kardex helps improve a customer's performance every step of the way. With three own production plants in Germany and one in North America Kardex ensures high quality solutions. To maintain and strengthen its competitive position within technological innovation and outstanding customer loyalty, Kardex is investing in research and development, its supply chain, the expansion of its service organization as well as in new technology via acquisitions. Kardex actively partners with global leaders who share the same values and complement the Kardex solutions including AutoStore, Rocket Solution, Robomotive, Intertex and Sumobox.
Kardex employs 2,000 team members across 30 countries and has installed over 140,000 industry-specific solutions worldwide.
Contact