Sport Conrad increases efficiency in order fulfillment with sustainable AutoStore solution from Kardex
18 January 2023, Company News
At Sport Conrad, located in the region of the Bavarian Alps, an automated storage and retrieval system will reliably handle steadily growing order volumes in the future. Optimally adapted to the spatial conditions on site, intralogistics expert Kardex is implementing a future-proof and highly efficient AutoStore solution with state-of-the-art components.
Since its foundation 125 years ago, Sport Conrad has developed into a leading, international multi-channel retailer in the outdoor & winter sports sectors. Today, the success of the family-run company is driven by 220 employees.
Sport Conrad's logistics center is located in Iffeldorf, south of Munich. All online orders are shipped from here, and products are transported between the warehouse and the four Sport Conrad stores several times a day. About half of the items stored here are sold online, the other half in-store. The storage area in Iffeldorf covers 5,000 square meters. During the order picking process, employees were previously traveling 25-30 km in the warehouse every day manually picking orders – but not anymore. To optimize efficiency and ergonomics in the warehouse, Sport Conrad's existing logistics center is now being expanded and automated by intralogistics expert Kardex. The Kardex solution includes a highly efficient AutoStore system with adjacent conveyor technology.
"With traditional warehousing, it was becoming increasingly difficult to meet the growing demands on our small parts logistics," explains Thomas Janker, Purchasing Manager at Sport Conrad GmbH. "Our new AutoStore system from Kardex offers extremely high storage capacity on a very small footprint, as well as maximum flexibility. This will enable us to process orders even more quickly."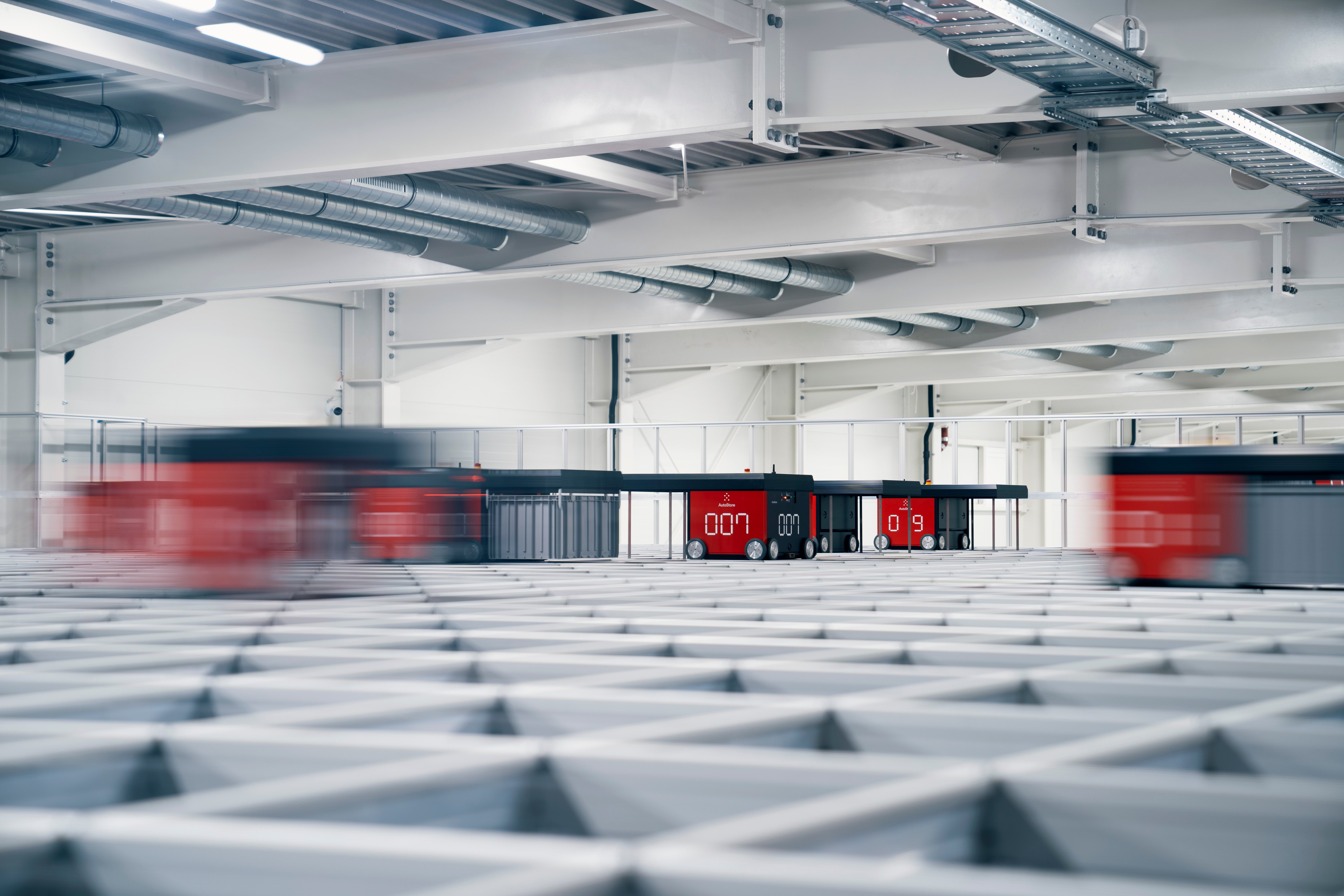 Compact, efficient and future-proof
With the best storage density ratio of any automated storage system, AutoStore achieves ultimate space efficiency. Storage bins are stacked high and tight in an aluminum cubic grid system that can be assembled in any shape and around obstacles. Greater capacity and storage density allows for four times the storage capacity in the same footprint when compared to traditional storage solutions. Sport Conrad's AutoStore solution provides space for 18,791 bins, each with an external height of 425 mm. The system will be installed on a footprint of 700 m². 65 percent of Sport Conrad's items will fit in the AutoStore bins - ranging from sportswear, climbing harnesses and backpacks to helmets and shoes.
For the handling of storage bins, 16 battery-powered AutoStore robots of the latest type "R5+" are used, which move along the rails of the grid. The high-speed robots pick up the bins, rearrange them and present them to ergonomically designed workstations – three Conveyor Ports and four Carousel Ports – for picking and replenishment. In addition, Kardex's customized AutoStore solution includes four Transfer Ports for storage and retrieval of bins via conveyors, as well as a folding box erector and a volume reducer. The modular design of AutoStore allows future expansion to accommodate throughput and storage capacity increases at any time without impacting ongoing operations.
"We were convinced by the Kardex team because of their consulting expertise, their quick reactions at all times and the uncomplicated and cooperative partnership," Janker continues. "AutoStore is certainly the right solution for our needs. The system enables us to significantly increase efficiency, as travel times are eliminated. With the best possible utilization of the available storage space, this also means a noticeable relief for our employees in the pick & pack process."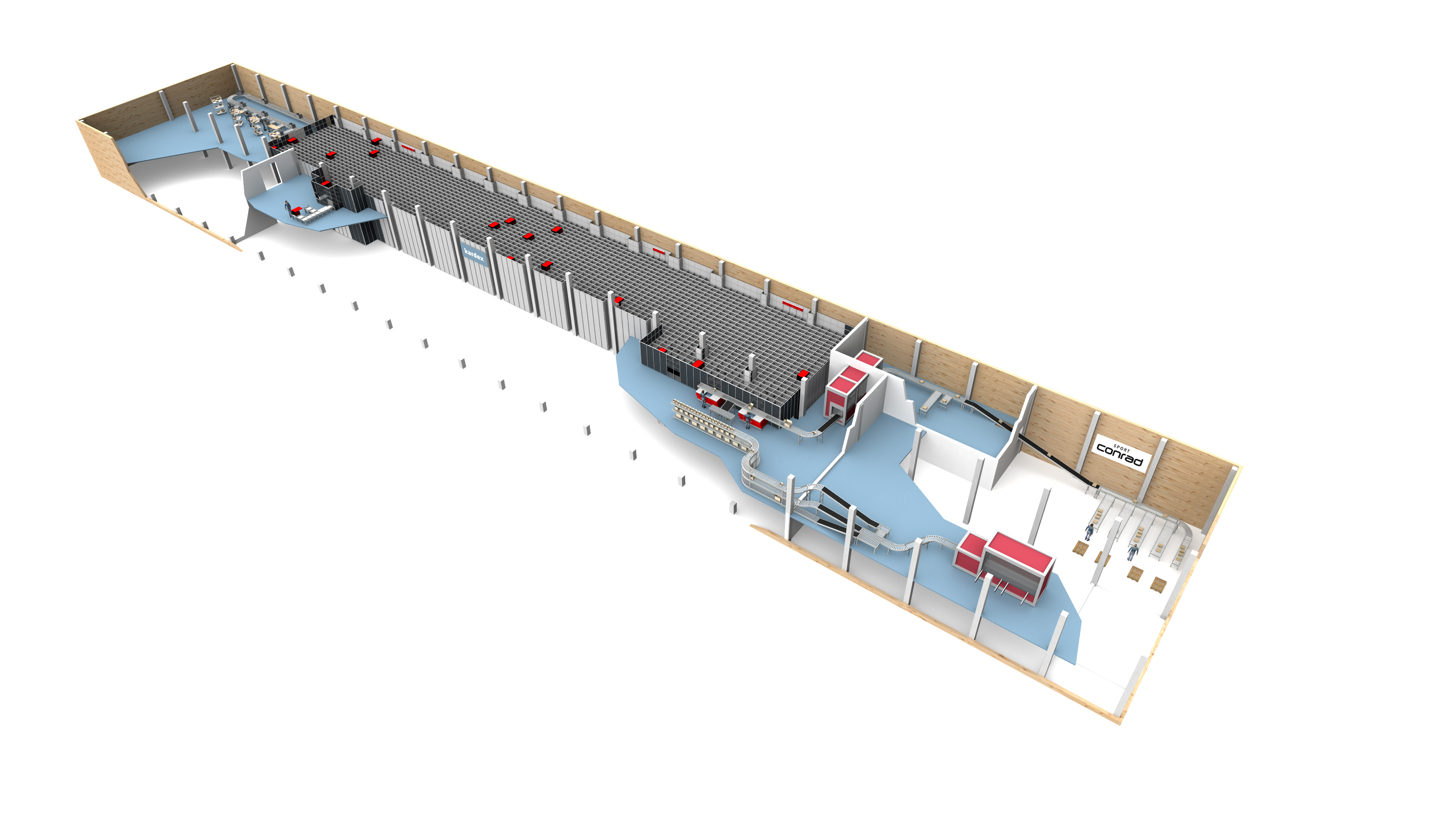 Visualization of the AutoStore solution planned for Sport Conrad
More sustainability with AutoStore empowered by Kardex
For Sport Conrad, sustainability and environmental responsibility have a very high priority. Thus, the company is actively committed to implementing resource-saving processes and sustainable solutions in all areas. This is exactly where the highly efficient AutoStore technology as the heart of the logistics center will make an important contribution in the future.
Compared to classic automated storage systems, AutoStore requires only a fraction of the energy. Ten AutoStore robots consume no more power than a standard vacuum cleaner. Whenever robots lower a bin or reduce speed, energy is returned to the batteries. AutoStore's compact design also requires no aisles, significantly reducing areas that need lighting. With a global average availability of 99.6% and redundant components, AutoStore is the most reliable and efficient storage system in the world.
About Kardex
Kardex is a leading intralogistics solution provider of automated storage, retrieval and material handling systems. With two entrepreneurially managed divisions, Kardex Remstar and Kardex Mlog, the Kardex mission is to provide solutions and services to increase the efficiency in storing and handling of goods and materials on a global scale.

The two divisions serve as partners over the entire life cycle of a customer's product or solution. From project analysis to realization and service, Kardex helps improve a customer's performance every step of the way. With three own production plants in Germany and one in North America Kardex ensures high quality solutions. To maintain and strengthen its competitive position within technological innovation and outstanding customer loyalty, Kardex is investing in research and development, its supply chain, the expansion of its service organization as well as in new technology via acquisitions. Kardex actively partners with global leaders who share the same values and complement the Kardex solutions including AutoStore, Rocket Solution, Robomotive, Intertex and Sumobox.
Kardex employs 2,000 team members across 30 countries and has installed over 140,000 industry-specific solutions worldwide.
Contact
In case of questions, please fill in our contact form.