Pallets / Heavy and Oversized Loads
The storage of pallets can take up a lot of warehouse capacity and time. Storing non-palletized items directly on the floor usually requires a crane, taking up an unnecessary amount of space and impacting the warehouse's overall capacity. The other option is to use traditional shelving, but then only a forklift can move the pallets. In both cases, handling is very time and labor-intensive.
With our decades of experience as a leading international supplier of automated pallet warehouses and storage and retrieval systems (ASRS), we develop solutions addressing these challenges and replacing manual processes. Our key product features include workplace ergonomics, safety, high-load capacity, optimal utilization of storage areas, and fast, efficient operations. Over the years, we successfully implemented solutions to store large and heavy goods on special load carriers and pallets or other standardized load carriers, such as pallet cages.
How to overcome the challenges of (manually) storing heavy loads?
Using an ASRS to store pallets and heavy goods solves key challenges and offers tangible benefits including:
Optimal use of space
Raised productivity by faster access
Simplified processes by integrating cranes
Modular and adaptable systems for maximum flexibility
Heightened handling performance
Maximized availability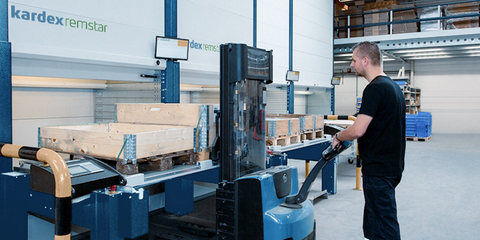 How to choose the right storage solution?
Your intralogistics performance and efficiency depend on finding the best storage solution.
When making this decision, it's important to consider:
Storage capacity
Dimensions and weight
Access frequency
We offer different solutions for various needs.
Lift systems and carousels to store heavy loads / pallets