Small Parts (Piece Picking)
Storing, managing, and picking single items such as small and lightweight goods requires a solution that optimizes order picking performance while guaranteeing high precision.
We know what you need:

Compact storage for maximum space utilization
High picking accuracy
Short access times
High turnover rates
Reduced labor requirements
Modular and adaptable systems for maximum flexibility
Kardex systems enable the storage of small and lightweight goods significantly improving productivity and energy consumption while reducing error rates. We offer user-friendly and easy-to-operate material flow control and warehouse management. Our solutions serve multiple purposes. Use them to store goods in a high-bay warehouse to supply a production line with a wide range of products, pick slow-moving parts in a distribution warehouse, or for buffer storage in an assembly area. Solutions from Kardex are easily customized to meet your exact needs.
Which solution is best for you?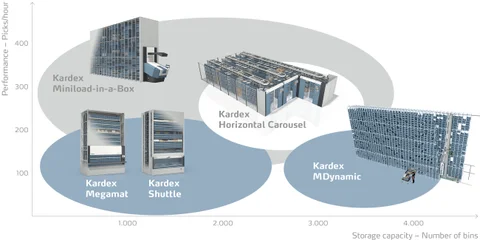 We optimize your storage providing compact, efficient and innovative material handling solutions. Our experts will work with you to provide a customized solution to solve your challenges and meet your goals – now and into the future.