Kardex's customer training offers added value that contributes significantly to your overall productivity and the cost-effectiveness of your processes. Gaining knowledgeable operating and maintenance skills should be a prerequisite to running and fully utilizing your innovative systems and plant´s functionality.
Kardex's certified trainers and experienced service technicians provide you with the right know-how to achieve long-term optimal performance.
The Life Cycle Service team is ready to support you!
Offers and benefits
Kardex offers your employees a comprehensive training program. The curriculum is based on the target group's individual needs, including which systems they operate and their specific role within the warehouse.
Training sessions take place at either your facility or at one of Kardex's production sites in Bellheim or Neuenstadt am Kocher, Germany - the choice is yours!
Advantages of regular employee training
Reduces the number of operator errors through regular training
Ensures your plant maintains a high availability due to fewer incidents
Results in faster reaction times if a malfunction occurs - saves both time and costs
Increases employee safety at the workplace
High identification with your plant and systems
Kardex Remstar offers trainings for
An experienced service technician and trained coach conduct the training at your own plant. The participants, therefore, receive new knowledge in a familiar setting.
Both at the Kardex Remstar facility in Westbrook Maine USA and at the Kardex Remstar Academy in Bellheim, Germany we offer first-class training for your employees.
We ensure you understand the daily tasks, with the time and calmness that is necessary for this. We attach great importance to ensuring our customers feel comfortable and benefit from effective training. That is why we conduct training in private groups with a maximum of eight participants.
Kardex Remstar Academy training rooms have automated storage and retrieval systems to use during the courses, including Kardex Compact Buffers, Kardex Shuttles, Kardex Megamats and Kardex Horizontal Carousels.
Safety and hygiene measures
The training rooms comply with social distancing, masking and hygiene regulations as stipulated by local government officials.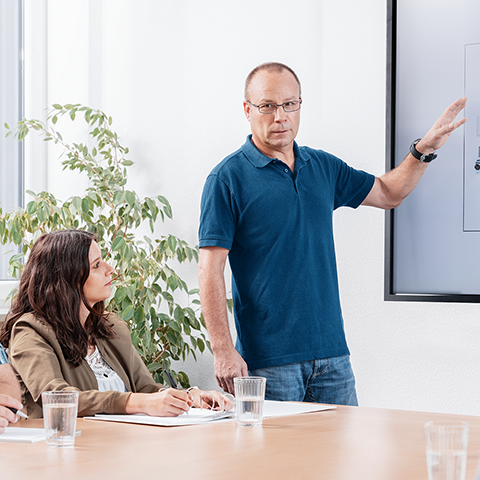 Our experience – your success
Kardex undergoes profound preparations to make sure your training is perfect and your employees finish feeling confident and prepared to optimally operate your systems and plants.
Kardex bases the training courses on a uniformed training concept. Kardex provides trainers with the appropriate presentations and training guides, as well as instructional and training materials. This ensures Kardex always provides high-quality training programs.
The Kardex trainers are certified as "Certified Industrial Trainers" by the Industrial Training Association (ITA) and regularly take further training courses in didactics and methodology.