anyseals chooses AutoStore empowered by Kardex to optimize their warehouse in Brecksville, Ohio
27 February 2023, Company News
For their main U.S. facility in Brecksville, the wholesale sealing supplier was looking for a space-efficient and flexible solution that would increase efficiency in small parts handling and handle their accelerated growth. Optimally adapted to the spatial conditions and material flow requirements on site, the intralogistics expert and global AutoStore partner Kardex will implement a future-proof and highly efficient AutoStore solution.
anyseals is a leading global and U.S. wholesale sealing supplier that operates logistics hubs in both the USA and Belgium, providing a high level of service to their distribution customers with capabilities for just in time delivery, custom labeling, bar coding and kitting programs. anyseals was founded in 2005 and is part of the Angst + Pfister Group network.
With the goal of handling the accelerated growth and improving efficiencies in their main U.S. facility in Brecksville, Ohio (near Cleveland), anyseals was looking for an automated warehouse solution to replace their manual picking process that uses static shelving, carts and reach equipment. The anyseals assortment encompasses more than 65'000 standard seals in many different materials ranging from o-rings to rotary and linear hydraulic seals sold from stock. The new solution was required to provide maximized use of the available space to enable anyseals manage their large SKU counts more efficiently in their existing facility. Furthermore, the solution needed to be capable of expanding in the future with the growth of their business, without interrupting the use of the automation during an expansion project. Meeting all these requirements, the company decided to implement the high-density storage and retrieval solution AutoStore.
"The AutoStore solution will enable us to continue our strong growth trajectory and will enhance our ability to meet and exceed the high level of fulfilment execution for our customers", says Toby Rose, COO at anyseals USA.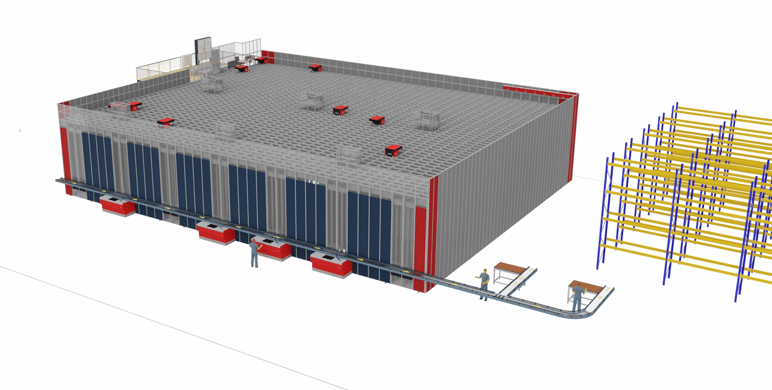 A tailor-made solution
In the first stage, the AutoStore system in Brecksville will contain 20,000 storage bins.
10 AutoStore R5 robots will sort, carry and deliver bins to 4 carousel ports serving as workstations for picking and replenishment. The ports will be linked directly to light goods conveyors, delivering to two pack out stations. Due to the modular design of AutoStore, performance and storage capacity can be expanded at any time, without impacting ongoing operations.
"We chose Kardex as a partner for this AutoStore project based on the team's experience including implementing projects for companies with similar products and customer demands." says Toby Rose, President at anyseals. "Furthermore, their collaborative approach with both our U.S. and global stakeholders was something that really made the Kardex team stand out."

A compact system that can grow with your business
AutoStore is a fully automated and intelligent goods-to-person storage and retrieval system offering industry leading product storage density. Bins are stacked vertically in a grid and retrieved by intelligent, battery-powered vehicles that travel on top of the grid system, sorting, carrying and delivering bins to the respective workstations (ports), where a variety of warehouse operations can be performed (picking, replenishment, inventory control, etc.). The flexible, tailor-made system fits even the most unusually shaped facilities, allowing the grid to be placed around columns, on mezzanines and on multiple levels. The bins are stacked neatly on top of each other in a condensed grid-style system, increasing storage capacity up to four times and performance up to 10 times that of traditional storage methods. AutoStore can easily adapt to changing order fulfillment requirements through a flexible configuration of the robots, ports and quantity of bin locations.
About Kardex
Kardex is a leading intralogistics solution provider of automated storage, retrieval and material handling systems. With two entrepreneurially managed divisions, Kardex Remstar and Kardex Mlog, the Kardex mission is to provide solutions and services to increase the efficiency in storing and handling of goods and materials on a global scale.
The two divisions serve as partners over the entire life cycle of a customer's product or solution. From project analysis to realization and service, Kardex helps improve a customer's performance every step of the way. With three own production plants in Germany and one in North America Kardex ensures high quality solutions. To maintain and strengthen its competitive position within technological innovation and outstanding customer loyalty, Kardex is investing in research and development, its supply chain, the expansion of its service organization as well as in new technology via acquisitions.
Kardex actively partners with global leaders who share the same values and complement the Kardex solutions including AutoStore, Rocket Solution, Robomotive, Intertex and Sumobox.
Kardex employs 2'000 team members across 30 countries and has installed over 140,000 industry-specific solutions worldwide.
Contact
Please complete the
contact form
for help with any questions and further information about AutoStore and Kardex.