The Vertical Lift Module (VLM) from Kardex features automated high-bay storage systems with modular designs.
The systems work in line with the goods-to-person principle. They're ideal for optimal storage density and flexible, efficient storage strategies.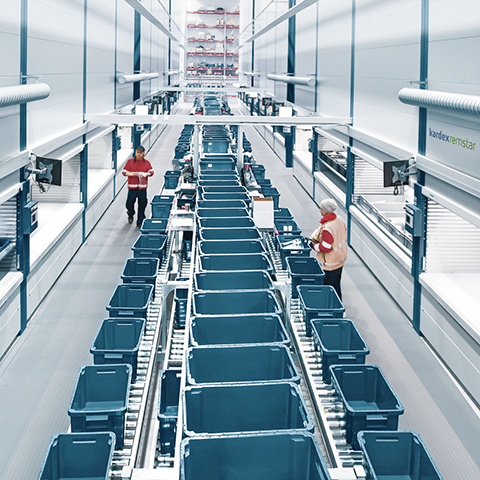 Customer needs
Save space and optimize room height
Create an ergonomic working environment
Secure stored goods
Achieve a high picking accuracy
Keep systems flexible
Modular systems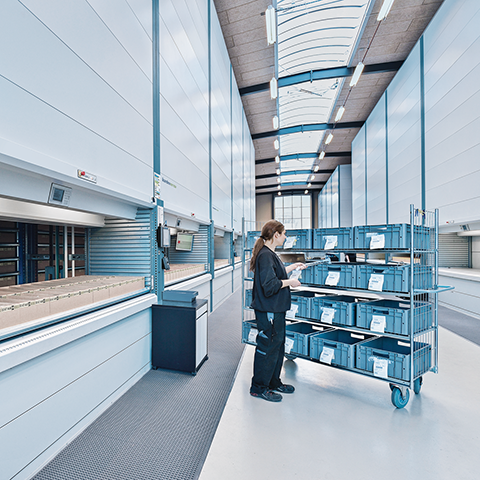 Benefits at a glance
More storage space in a smaller footprint
Fast access times
The system shows precise inventory levels
Expandable, scalable, and flexible
Extremely safe and ergonomic for employees
Stored goods stay protected
How does the Vertical Lift Module work?
Components to create the perfect solution
The extractor moves the desired tray at high transport speeds directly to the access opening or back to free storage space.
The lift door is included with the standard accessories of each unit to protect people, machines, and stored goods as well as to reduce noise and drafts.
Shelf rail modules provide the trays to the access opening. If necessary they can also work on different levels for optimum ergonomics and workspace.
Once the safety light barrier placed in front of the access opening is activated, all moving units are stopped immediately.
Options for individual requirements
The wide range of add-ons (which can be integrated either before or after installation) provides even greater flexibility for the Shuttle XP. The following options are available:
Automatic/semi-automatic tray extraction

Tray extraction device for forklift operation
Automatic/semi-automatic tray extraction
Tray extraction device for forklift operation
Thanks to numerous options, the Shuttle XP provides maximum flexibility for various solutions. The system can be raised, shortened, relocated to another location, and adapted to new requirements.
Maximize your success with integrated technology
Easily incorporate the following technologies
Fast and easy integration of barcode readers for order picking, order identification, picking articles, and the stacking and retrieval process.
For faster order picking and consolidation, work zones efficiently connect via conveyor technology.
Easily integrate lifting equipment. Cranes and grippers enable the ergonomic storage and retrieval of goods.
Automatic handling devices such as robots provide more efficient automated storage and retrieval.
Every Shuttle XP is configured to meet your needs
Technical data of the Vertical Lift Module
Tabelle mit 3 Einträgen anzeigen
XP 250 | XP 500
XP 700
XP 1000

Width

1,580 to 4,380 mm

1,580 to 4,380 mm

1,580 to 4,380 mm

Depth

Spalte 1

2,312 to 3,074 mm

Spalte 1

2,363 to 3,125 mm

2,363 to 4,343 mm

Height

2,550 to 30,050 mm

2,550 to 20,050 mm

2,550 to 20,050 mm

Load

Up to 560 kg

Up to 725 kg

Up to 1,000 kg

Height grid

100 mm

100 mm

100 mm

* Standard technical data, other sizes possible on request
The values are shown in the table reference standard configurations. It is possible to also construct other units with different widths, depth, and height dimensions.
Do you want more information on the Vertical Lift Module?