Vertical Lift Module (VLM)
The Vertical Lift Module (VLM) from Kardex features an enclosed shelf-based storage system designed to increase capacity in a more compact footprint.
Operating on the 'goods-to-person' principle, the VLM increases productivity by delivering goods directly to an operator. These systems are modular and flexible in design, which enables future adjustments for your business needs.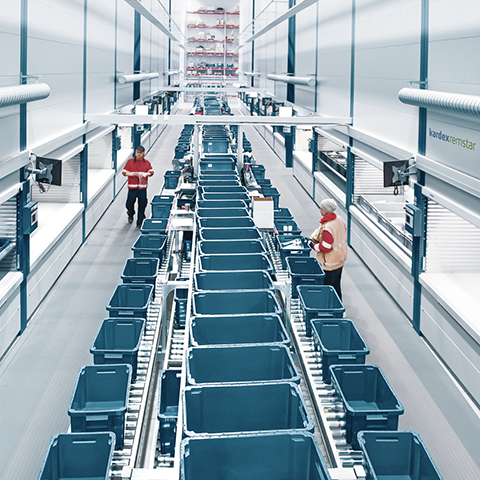 Warehouse requirements
Save space and optimize room height
Create an ergonomic working environment
Secure stored goods
Increase picking speed and accuracy
Keep systems flexible
Modular systems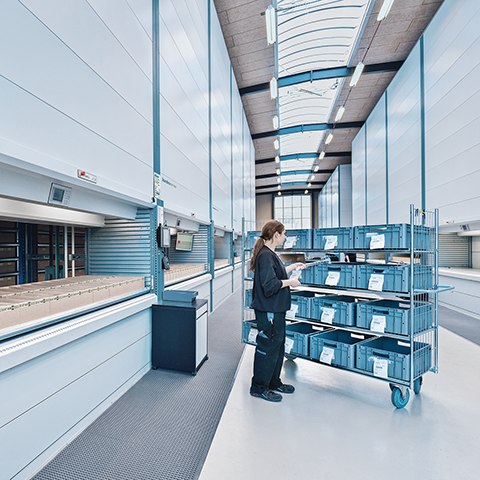 Benefits at a glance
More storage space/capacity in a smaller footprint
Increased throughput
Improved inventory control
Expandable, scalable, and flexible
Extremely safe and ergonomic
Stored goods stay protected
How does the Vertical Lift Module work?
Components for the perfect solution
The extractor moves the desired tray at high transport speeds directly to the access or back to an available storage location.
The lift door is included with the standard accessories of each unit to protect people, machines and stored items as well as to reduce noise and drafts.
Shelf rail modules hold the trays in the access opening. They can provide two trays at the same time, and work on different levels for optimum ergonomics of the operators.
If the safety light barrier in front of the access opening is activated, the unit stops moving immediately to protect the operator and the inventory.
Options for individual requirements
The wide range of add-ons (which can be integrated either before or after installation) provides even greater flexibility for the Kardex Shuttle. The following options are available:
Automatic/semi-automatic tray extraction

Tray extraction device for forklift operation
Automatic/semi-automatic tray extraction
Tray extraction device for forklift operation
Thanks to numerous options, the Kardex Shuttle provides flexibility for various needs. The system can be raised, shortened, moved to another location or adapted to new requirements.
Maximize your success with integrated technology
Easily incorporate the following technologies
Fast and easy integration of barcode scanners for order picking, order identification, and the storage and retrieval process.
For faster order picking and consolidation, work zones can be connected via conveyor technology.
Easily integrate lifting equipment such as cranes for the ergonomic storage and retrieval of goods.
Automatic handling devices such as robots provide more automated storage and retrieval.
Every Kardex Shuttle is configured to meet your needs
Technical data of the Vertical Lift Module
Kardex Shuttle 250/500
Kardex Shuttle 700
Kardex Shuttle 1000

Width

1,580 to 4,380 mm

1,580 to 4,380 mm

1,580 to 4,380 mm

Depth

Spalte 1

2,312 to 3,074 mm

Spalte 1

2,363 to 3,125 mm

2,363 to 4,343 mm

Height

2,550 to 30,050 mm

2,550 to 20,050 mm

2,550 to 20,050 mm

Load

Up to 560 kg

Up to 725 kg

Up to 1,000 kg

Height grid

100 mm

100 mm

100 mm

* Standard technical data, other sizes possible on request
The values shown in the table reference standard configurations. It is possible to also construct other units with different widths, depths and heights.
Do you want more information on the Vertical Lift Module?