Kitchen / Wood / Furniture
Automated storage solutions for the kitchen, wood, and furniture industry
The most important raw materials for kitchen/wood manufacturers and the wood processing industry include large-format worktops, half and full formats, and fronts and body components. Despite weighing up to 100 kilograms and extending up to 5.60 meters long, these panels must be picked individually, but also stacked safely, quickly, and flawlessly.
Automated solutions with stacker cranes clearly outperform manual concepts with side-loading forklifts or mobile platforms. There are several advantages including:
The rail-guided stacker crane extends 24-meters high
Stacker cranes do not have to maneuver (aisle widths are not a concern)
Storage space is three times deeper
Space / personnel costs decrease - ROI within the first three years
Picking performance increases
Picking in the panel warehouse. Is it time to automate?
Read Kardex's white paper to learn more about the key decision criteria.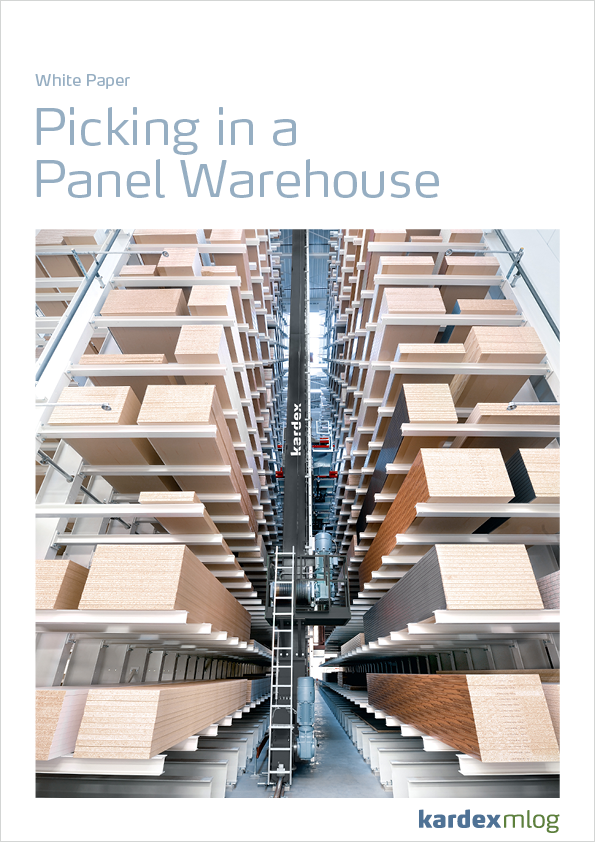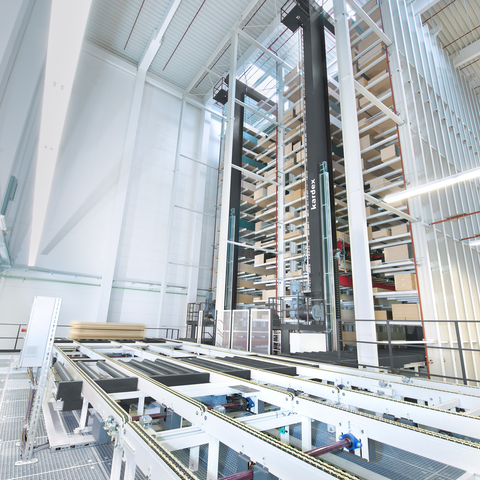 Warehouse challenges
Decreasing batch sizes, up to "lot size 1", due to increasing individualization options for end customers
Picking a high volume of panels within an extremely limited timeframe
Storing and transporting panels flawlessly
Having all necessary individual parts in the right quantities at the right time
Executing the first-in-first-out principle
With an extensive portfolio and numerous applications, Kardex is a proven intralogistics partner to the kitchen, wood, and furniture industry.
Learn more about the benefits of our solutions.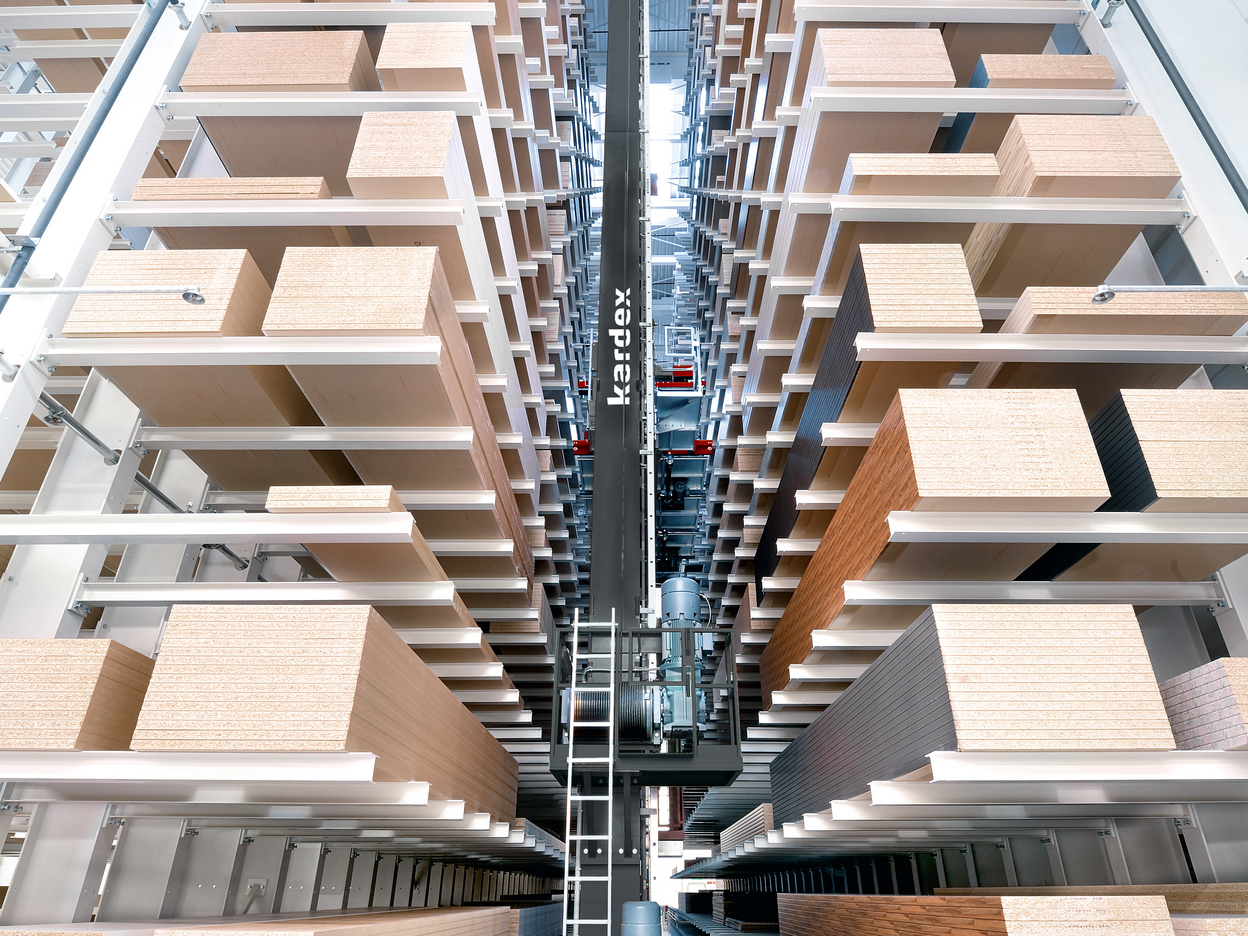 Make optimum use of your available space for store kitchen fronts, kitchen worktops, half formats, full formats, niche paneling, or even accessories in a fully automated high-bay warehouse from Kardex Mlog. In addition to utilizing the storage height, multiple-deep storage provides an additional space advantage.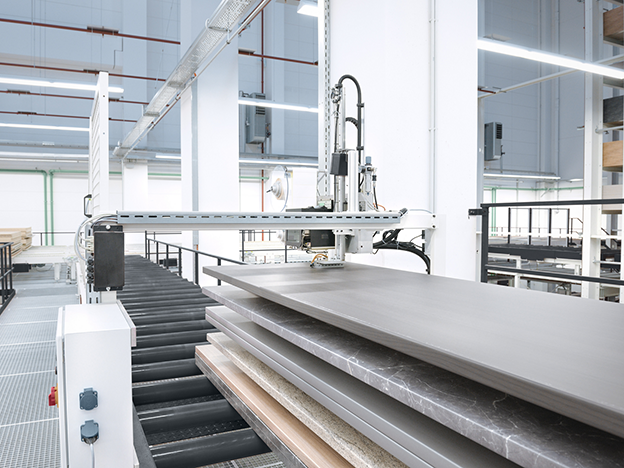 As buffer storage, Kardex automated storage solutions ensure maximum utilization of production capacity. A large number of different panels are temporarily stored here and automatically made available for production at the right time. The formation of mixed stacks on the stacker crane ensures a highly efficient order picking process.
When storing panels, it is particularly important to avoid and, if required, quickly control fires. Kardex's special fire protection solutions ensure the optimal protection of your goods.
Humidity is also a critical factor, and climate consistency is of upmost importance. If the humidity is too high, there is a major risk of the goods depreciating or even a complete inventory loss.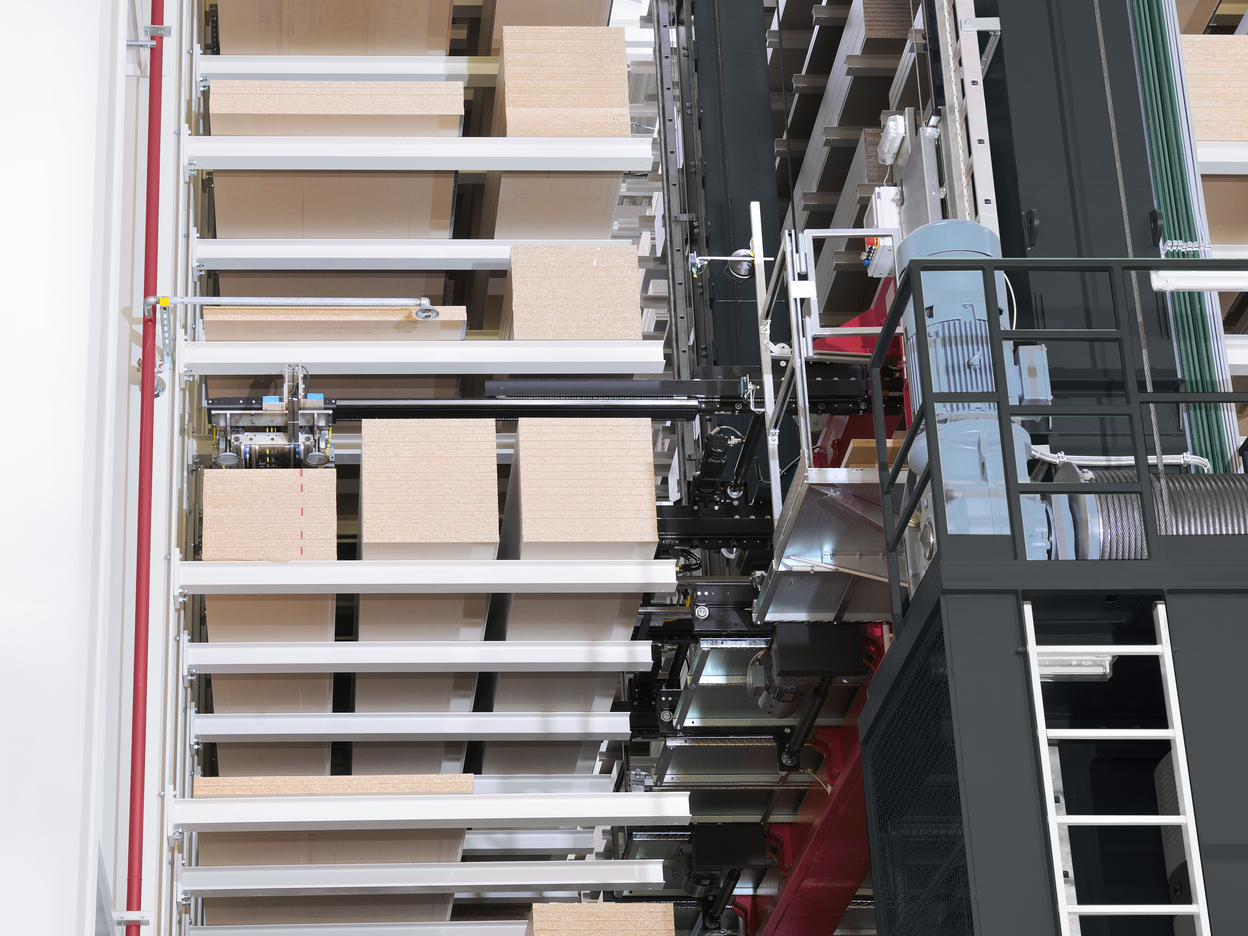 Panels are picked directly in the warehouse with the help of a suction traverse, whereby mixed stacks form. Picking single panels take place on the storage and retrieval machine. Panels from rear rows get picked without removing the stacks in front of them. The picking up of the boards using a suction traverse allows a clean separation from the stack underneath. It is exceptionally effective and protects the surfaces of fronts and worktops. The storage of panels without load carriers saves additional space and enables a dynamic process chain.
Kardex's fully automated systems store and retrieve large quantities quickly. Our efficient warehouse management software guarantees a permanent stock overview and a smooth and fast material flow. Manual error rates are no longer a concern.