Kardex Mlog: A pioneer reaches 100
20 September 2022, Company News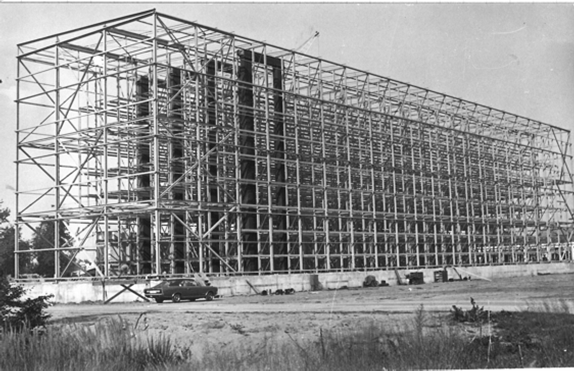 In September 2022, Kardex Mlog will not be presenting new developments in the field of intralogistics, nor will it be handing over a record-breaking high-bay warehouse to a customer – instead, the innovative company from Neuenstadt am Kocher in the state of Rhineland-Palatinate will celebrate 100 years of business.
"Normally, at Kardex Mlog, we are fully focused on current customer challenges and requirements and on forward-looking solutions. However, on the occasion of the company's 100th anniversary, we are taking some time out to have a look back. We can see the history of intralogistics, which we have helped to shape right from the beginning, and on which we have left our mark with our ideas, developments and patents," says Hans-Jürgen Heitzer, Head of Division Kardex Mlog.
| | |
| --- | --- |
| | The story began in 1922 with the founding of the Erwin Mehne steel construction company. In the early years, the company focused on the construction of steel structures, bridges, containers, buildings and halls. In the 1960s, new divisions were set up for the construction of cranes, machines and conveying technology. In 1966, the company received its first order for five picking devices for the central spare parts warehouse of the then Fiat Automobil AG in Heilbronn. In 1968, the company built its first silo-type, automated high-bay warehouse with a height of 25.8 meters – a technological milestone with an in-house developed rail- and floor-based stacker crane. This solution was a breakthrough in terms of precision compared to the previous generation of stacker cranes. |
In the 1970s, Erwin Mehne earned a solid reputation as a general contractor and continued to construct high bay warehouses. In 1970, the company designed and built the first stacker crane for use in a refrigerated warehouse. 1972 saw the go-live of the first Erwin Mehne in-house developed, wired automatic control system at the Birkel pasta and noodle company. The highlight of this era was the construction in 1974 of an automated high-bay warehouse with in-house-developed conveying technology and picking area for the Vereinigten Papierfabriken company in Feuchtwangen. In the same year, in Berlin, Erwin Mehne built a high-bay warehouse with conveyor connection to the four-storey production location at Gillette Germany.
The 1980s saw the arrival of programmable logic controllers, which were first installed by Erwin Mehne in 1981 in a fully automated high-bay warehouse for the Daimler company. A year earlier, the company demonstrated its competence in the area of automated small-parts storage. A fully computer-controlled plant was installed for the Porsche company, featuring the legendary Mekomat small-parts stacker crane.
In 1989, Erwin Mehne merged with the MAN Lager- und Systemtechnik company (founded in 1974) and with the Wolffkran company. As a subsidiary of MAN GHH based in Oberhausen, the company name was changed to MAN GHH Logistics GmbH. By this time, the company could look back on a construction record of 60 high-bay warehouses and 630 stacker cranes. In 1997, MAN GHH Logistics became MAN Logistics GmbH, which continued to develop and become a leading provider of conveyor and material flow components, systems and complete solutions.
In the course of a management buyout in 2005, the name changed once more to MLOG Logistics. The branch office North in Bad Salzuflen (subsequently relocated to Herford), which was opened in 2007, and the Rhein Ruhr Service-Center in Oberhausen, which was set up in the same year, laid the foundation for further expansion and customer proximity. In 2009, the headquarters of MLOG was established in Neuenstadt am Kocher.
When the MLOG Logistics company was taken over by the Kardex Group in 2010, this opened up completely new perspectives for the intralogistics pioneer. Under the umbrella of the globally active parent company, it was now possible to access new markets and initiate further investments in its traditional market. Internationalization proceeded at pace too with the establishment in 2021 of a Polish location in Zoppot. Kardex Mlog continued to strengthen its position as a supplier of complete systems consisting of both hardware and software. The in-house-developed Kardex Control Center warehouse management system was extended to include new modules and it now covers all functional areas from material flow systems to plant visualization.
On the hardware side, Kardex Mlog remained true to its reputation as an innovation leader: In 2010, the company introduced the Kardex MDynamic small parts storage system with stacker crane. In 2014, the Kardex MMove wireless pallet shuttle and the Kardex MSpacer load handling device reached the market. With double deep storage, the newly patented fork for stacker cranes enables use of the full height of the second row. In the case of a 20-meter high warehouse, this represents a space gain of more than 1,800 mm per aisle. In 2017, in Wronki in Poland, Kardex Mlog constructed a high-bay warehouse for Amica, a Polish manufacturer of household appliances. The building is 45.3 meters tall and was the tallest facility built so far by Kardex.
Summary: Thanks to its eagerness to constantly look for new solutions, Kardex Mlog now offers a wide range of intralogistics systems. In addition to individually planned and custom-built high-bay warehouses with stacker cranes of up to 45 meters, the company portfolio also includes shuttle vehicles, conveying technology modules and turnkey, modular and scalable system solutions developed and manufactured in house. The refurbishment of existing plants – including those constructed by other suppliers – has become an important and fast-growing business field. A flexible overall service from spare parts management right up to 24-hour on-site service and complete technical support round off the range of services. And today – after 100 years of development – as a supplier of integrated material flow systems and high-bay warehouses, Kardex Mlog can look back on more than 1,000 completed projects.

For more information, see:
www.kardex.com
About Kardex Mlog
Kardex Mlog (www.kardex.com), with head office in Neuenstadt am Kocher, is one of the leading suppliers of integrated material flow systems and high-bay warehouses.The company has more than 50 years of experience in the planning, implementation and maintenance of fully automated logistics solutions. The three business sectors - Greenfield installations, Refurbishment, and After sales service – draw upon its in-house manufacturing facility in Neuenstadt. Kardex Mlog is part of the Kardex Group and employs 305 people. In 2021 the company achieved revenues of €89 million.

For more information
MLOG Logistics GmbH
Wilhelm-Maybach-Straße 2
74196 Neuenstadt am Kocher
Tel.: +49 7139 / 4893-536
Fax: +49 7139 / 4893-99 536
E-mail: presse.mlog@kardex.com
Website: www.kardex.com

Press Officer:


Bettina Wittenberg
Tel.: +49 7139 / 4893-536