BIKE24 automates its new logistics center with an AutoStore solution from Kardex
24 February 2022, Company News
Like many online retailers, BIKE24 must rethink its logistics and implement innovative strategies to efficiently manage rapidly growing orders and guarantee the shortest possible delivery times. In 2017 AutoStore revolutionized BIKE24's head office in Dresden, Germany. Due to this success, BIKE24 once again invests in robot-based storage technology and turns to AutoStore, the fully automated storage and picking system for its new logistics center in Barcelona. The solution is scheduled to go live in the 4th quarter of 2022 and will be the largest AutoStore facility in Spain to date.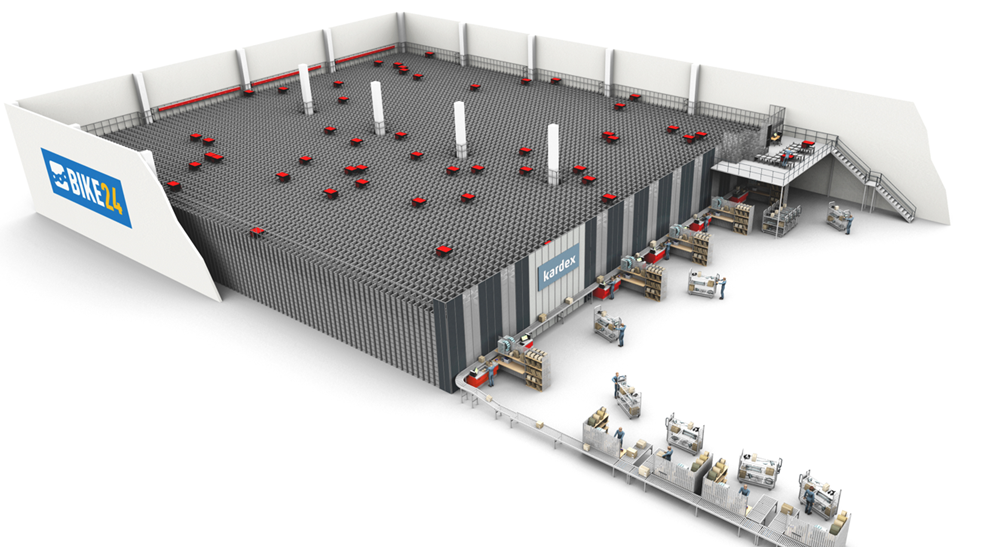 Neuburg an der Kammel, Germany, 20 January 2022
–
BIKE24 is one of Europe's leading online retailers for bicycle parts and accessories. Founded in 2002, the company has approximately 450 employees and processes customer orders from over 80 countries. BIKE24 annually ships around 1,500,000 parcels worldwide – a number that continues to rise! In 2017, the online retailer installed a compact AutoStore storage and retrieval system at its head office in Dresden to store more goods in less space and avoid having to relocate to new premises. The switch to AutoStore allowed BIKE24 to double its storage capacity.
"With 77,000 items, BIKE24 offers the largest assortment of products on the market. Only an AutoStore solution would allow us to gain the storage capacity we needed in the space available," says Christoph Knippschild, Head of Operations at BIKE24.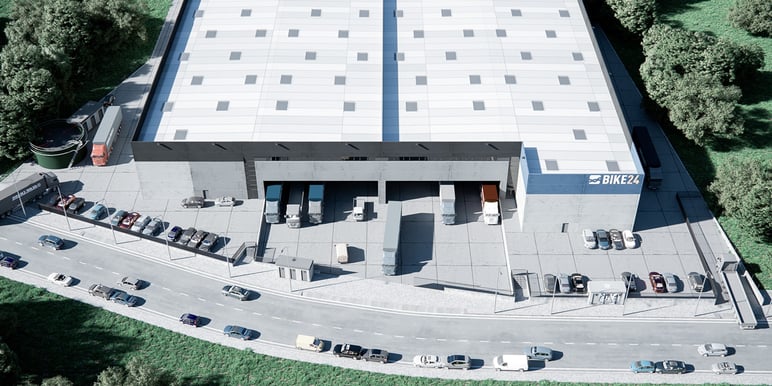 A system that can grow with your business
In order to keep up with its annual double-digit growth targets and shorten delivery times to its customers all over Europe, BIKE24 now invests in another AutoStore system with adjoining conveyor technology for its new logistics centre in Lliçà d'Amount, Barcelona. The intralogistics solution provider Kardex has been commissioned with the planning and implementation of the overall solution.
| | |
| --- | --- |
| | "We chose Kardex for this project because we were looking for a competent, customer-focused partner with extensive global experience and a local presence. We were really impressed with the reliability and flexibility of the experienced Kardex team and their ability to quickly manage questions and challenges that arose along the way. The Kardex Life Cycle Service Team in Spain also guarantees expert and reliable support over the entire life cycle of our AutoStore system," says Knippschild. |

As the core of the logistics center, the flexible AutoStore solution will hold 90,000 storage bins within a floor area of 2,112 m² during the first stage of the expansion. 50 Red Line robots continuously pick up, rearrange and transport storage bins as they move along the grid rails. Ten ergonomic AutoStore workstations, known as Carousel Ports, are used for picking and replenishment. Operators can switch between these two applications at the push of a button. Therefore, BIKE24 is able to match the Port applications with the existing processes at any time. If performance or capacity requirements increase in the future, BIKE24 can easily add more robots and Ports to the system.
Knippschild continues, "As a result of our continuous growth, our logistics processes face intense pressure to expand as needed - something AutoStore can do highly efficiently. The system allows for quick and easy expansions without interrupting ongoing operations and thus offers the crucial flexibility we need to compete in the e-commerce business."
Goods-to-person instead of person-to-goods
The logistics center in Barcelona has two large 5,000 m² warehouses which, in the future, will not only be supplied by the Dresden facility, but also by the suppliers directly. Orders will be processed by intelligent AutoStore robots that pick up the storage bins and present them to the workstations, where the operators put the items into the shipping cartons before they label and seal them. The cartons are then transported directly from the Ports to the dispatch area on a conveyor belt. 90% of BIKE24's products fit in AutoStore bins (internal dimensions 603 x 403 x 312 mm). The remaining items are stored either in the manual shelf warehouse, the pallet warehouse or the flexible block warehouse. Orders that require items from manual storage areas for completion are gathered on picking trolleys and then finished via a route-optimized multi-order picking process. With this process, orders always reach the packing stations in bundles so that order items can be consolidated quickly and efficiently. In the dispatch area customer orders are sorted and loaded by carrier and region.
"AutoStore enables us to significantly increase efficiency, as travel times in the warehouse are eliminated altogether," states Knippschild. "The optimum utilization of the available storage space has also resulted in a noticeable reduction in the workload for our employees. With our ergonomically designed goods-to-person workstations, bending down or stretching up to the shelves are a thing of the past."
Exceeding sustainability targets with AutoStore and Kardex
At BIKE24 sustainability is of central importance. BIKE24 has been climate-neutral since 2020 and provides its customers climate-friendly shipping, regardless of the parcel service. The BIKE24 business model also promotes increasing the use of bicycles, and therefore green mobility.
The decision to implement AutoStore as the heart of the logistics center enabled BIKE24 to take another important step to further strengthen sustainability within the company. AutoStore requires only a fraction of the energy compared to traditional automated storage systems. Ten AutoStore robots consume less energy than a standard vacuum cleaner and power is fed back to the batteries whenever the robots lower a bin or slow down. AutoStore's compact design also eliminates aisles between shelving, which in turn significantly reduces the lighting requirements in these areas. AutoStore technology therefore helps companies minimize their ecological footprints while achieving a significant increase in productivity.
About Kardex
Kardex is a leading intralogistics solution provider of automated storage, retrieval and material handling systems. With two entrepreneurially managed divisions, Kardex Remstar and Kardex Mlog, the Kardex mission is to provide solutions and services to increase the efficiency in storing and handling of goods and materials on a global scale.
The two divisions serve as partners over the entire life cycle of a customer's product or solution. From project analysis to realization and service, Kardex helps improve a customer's performance every step of the way. With three own production plants in Germany and one in North America Kardex ensures high quality solutions. To maintain and strengthen its competitive position within technological innovation and outstanding customer loyalty, Kardex is investing in research and development, its supply chain, the expansion of its service organization as well as in new technology via acquisitions. Kardex actively partners with global leaders who share the same values and complement the Kardex solutions including AutoStore, Rocket Solution, Robomotive, Intertex and Sumobox.
Kardex employs 1,900 team members across 30 countries and has installed over 140,000 industry-specific solutions worldwide.
Contact
Please complete the
contact form
for help with any questions and further information about AutoStore and Kardex.