Faster logistics at apetito
13 April 2023, Company News
The catering and food specialist apetito commissioned Kardex Mlog with the refurbishment of its central refrigerated warehouse at its German production and logistics site in Rheine in North Rhine-Westphalia. During the refurbishment project, manual processes are to be increasingly automated and the material flow in the refrigerated warehouse is to be optimized. The extensive changes to the conveying technology with 170 new drives and five new vertical conveyors including automatic controls and visualization were split into four subprojects and were all realized during ongoing operations. The project also encompassed diverse changes to the neighboring TK07 warehouse, which was connected to TK05 via automated conveying technology. As of now, three of the four subprojects have been successfully completed, and this has resulted in a significantly higher availability of materials.
As part of apetito's manufacturing and logistics at the Rheine site, TK05 plays a key role as a hub facility. For 30 years, the refrigerated warehouse has supplied the neighboring manufacturing plant and also the IQF center. IQF refers to "Individually Quick Freezing," a technique for shock-freezing of food products. All material flows to the manufacturing plant and to the shipping point for menus go through the TK 05 facility. "It was extremely important to us that Kardex Mlog was able to carry out all the refurbishment measures with the utmost precision during ongoing operations," emphasizes Thorsten Bischof, head of materials management at apetito AG. "The project managers are doing a super job - you can see that by how well the job is progressing even during our ongoing operations, and all deadlines are being met," says Bischof.
As part of the subprojects, a total of 170 new drives and five new vertical conveyors have been installed in TK05. The new elements were connected to the existing conveying technology at different levels. This enabled the creation of a redundant material flow. The conveying technology was commissioned with a new, state of the-art, automatic control system. A new plant visualization system was also implemented, and all additional measures were integrated into this.
The work was carried out almost exclusively during ongoing operations. For the more extensive project sections such as the installation and commissioning of vertical conveyors, Kardex took advantage of apetito's non-operating time periods, which meant that production continued without interruption throughout the entire duration of the project.
A key sub-aspect of the project was the newly created material flow between the refrigerated warehouses TK07 and TK05. For this purpose, the existing conveying technology was modified, and a new connection point was created. A wall was opened up and a new fire protection door and a freezer door were installed to create a new conveyor line. This means that, following completion of all refurbishment work in March 2023, pallets can be conveyed in both directions between TK07 and TK05.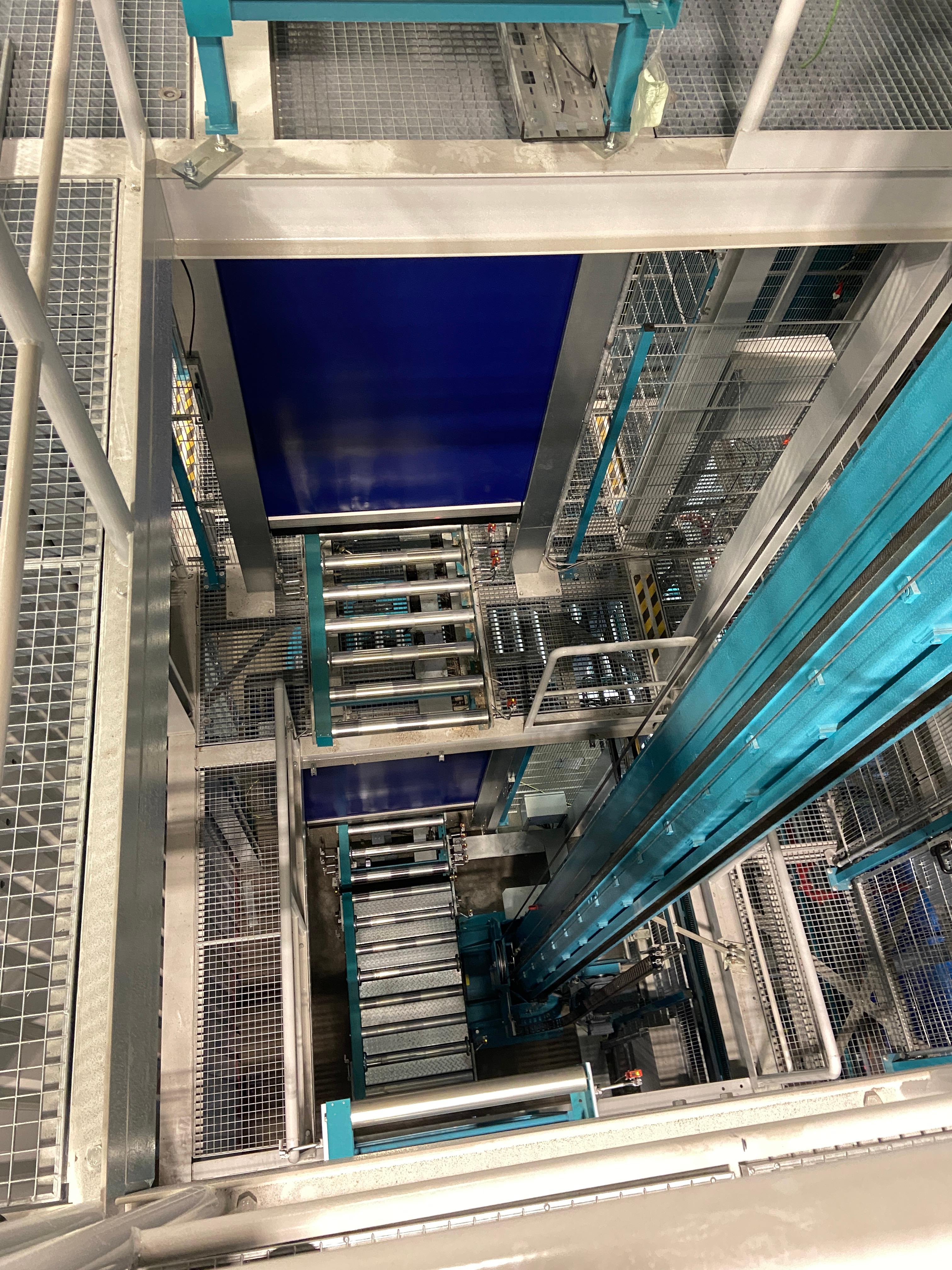 The refrigeration specialists apetito and Kardex Mlog have already collaborated on several projects, which have consistently led to new milestones in refrigeration logistics. These include apetito's TK08 warehouse at the Rheine location, which, when commissioned in 2017, was one of Germany's tallest and largest refrigerated warehouses – constructed by Kardex Mlog as general contractor.

Since the establishment of the company in 1958, apetito AG has become a catering and food specialist serving more than 1.4 million people every day. The German company, headquartered in Rheine, prepares meals for very diverse target groups: From the very young to the very old – people in diverse life situations enjoy meals from apetito. apetito offers differentiated catering solutions in the form of deep-frozen menus and systems. In 2021, some 11,775 employees worldwide generated revenues of 1.01 billion euros.
About Kardex Mlog
Kardex Mlog, with head office in Neuenstadt am Kocher, is one of the leading suppliers of integrated material flow systems and high-bay warehouses.The company has more than 50 years of experience in the planning, implementation and maintenance of fully automated logistics solutions. The three business sectors - Greenfield installations, Refurbishment, and After sales service – draw upon its in-house manufacturing facility in Neuenstadt. Kardex Mlog is part of the Kardex Group and employs 333 people. In 2022 the company achieved revenues of €106 million.
For more information
MLOG Logistics GmbH
Wilhelm-Maybach-Straße 2
74196 Neuenstadt am Kocher
Press Officer:
Bettina Wittenberg
Tel.: +49 7139 / 4893-536