Kardex implements the world's first large AutoStore system with R5+ robots
19 May 2022, Company News
In April 2022 the German online retailer Arbeitsschutz-Express has put a future-proof and highly efficient AutoStore solution into operation. The tailor-made solution was planned and implemented by the intralogistics expert Kardex. In the future, state-of-the-art AutoStore R5+ robots will reliably handle the steadily growing customer orders at Arbeitsschutz-Express. The R5+ robots have been launched on the market January 2022.
Neuburg an der Kammel, Germany, 19 May 2022 – Started as a family business in 1983, Arbeitsschutz-Express today is a medium-sized wholesale company that has established itself as one of the German market leaders in e-commerce. In order to keep up with the fast growth and to be able to continue supplying customers reliably and fast, the step towards automated order fulfillment was unavoidable for the online retailer.
"The best possible utilization of storage space, fast provision of the requested items and maximum reliability were the most important requirements for us in terms of our new storage system. As a proposed solution, the experienced team at Kardex offered us an AutoStore solution precisely tailored to our needs. The overall package was so convincing that we placed the order with Kardex just three months after the first contact", says Philipp Wiedemann, Managing Director of Arbeitsschutz-Express.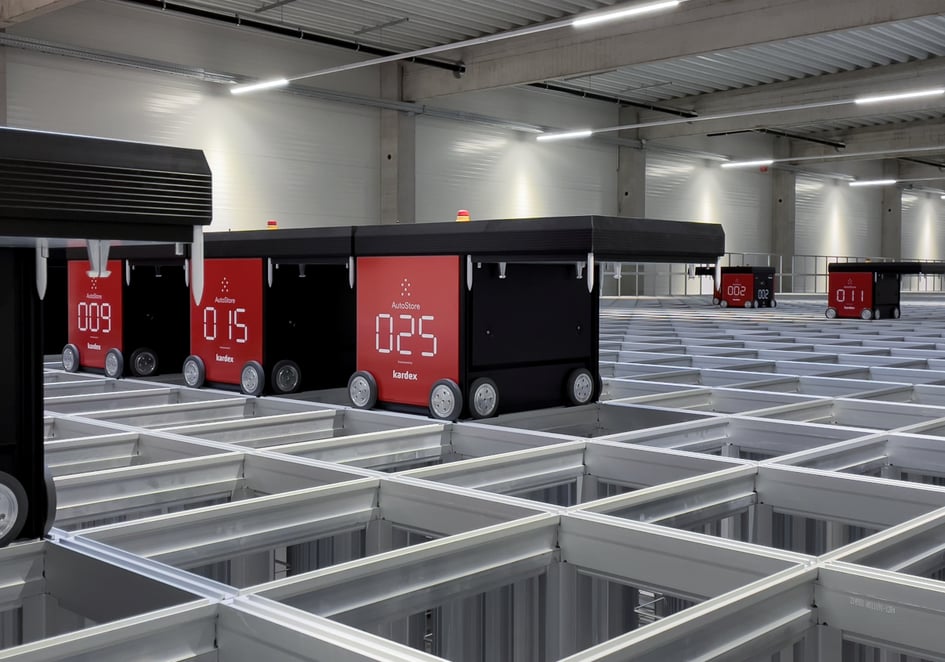 A tailor-made & flexible solution
A large part of the goods stored at Arbeitsschutz-Express consists of work shoes. Shoeboxes are always labeled the same way using the shorter side of the box. Therefore, it is essential to store shoeboxes upright in an AutoStore bin - this ensures retrieved items are scanned before they are picked. For this reason, Arbeitsschutz-Express uses 54,000 of the tallest bins, combined with 26 of the brand-new R5+ robots. This Red Line robot, which is based on the technology of the proven "R5" model, can handle bins with a height of up to 425 millimeters. Previously, this was a premium feature only available with the Black Line robot "B1".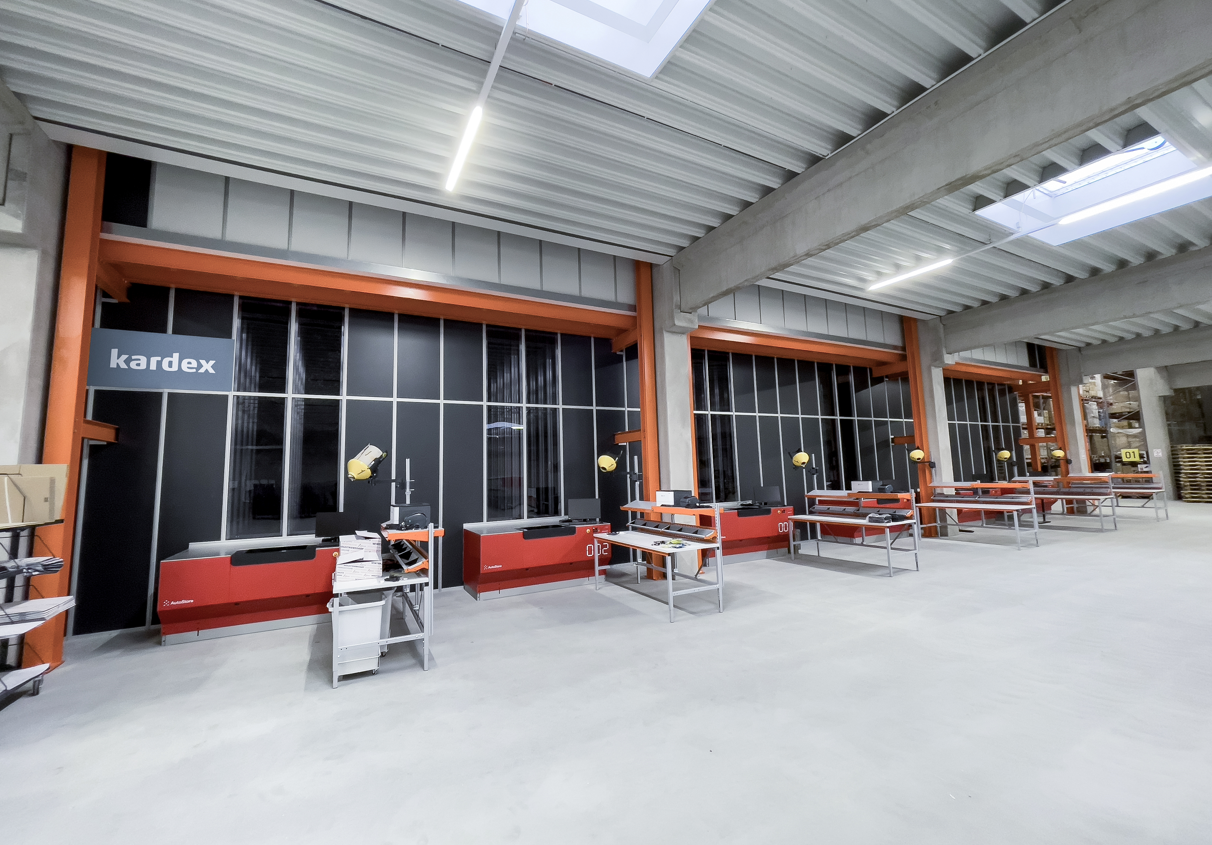 Six Carousel Ports are used for picking and replenishment and can switch between these two applications at the push of a button. Arbeitsschutz-Express can match which Ports are used when and for what application, aligning AutoStore with its existing processes. If performance requirements increase in the future, Arbeitsschutz-Express can easily and quickly add robots. Three Port frames at the front of the AutoStore system serve as preparation for future expansion with Conveyor Ports used for replenishment. The Warehouse Management System (WMS) Kardex Control Center manages the various warehouse systems and optimizes the connecting processes.
"With our AutoStore solution we will be able to meet the increased demands in logistics, make optimal use of our available space and expand the internal logistics capabilities at our Leipheim site in a future-proof manner. We look forward to a strong partnership with Kardex as the basis for long-term success", Wiedemann concludes.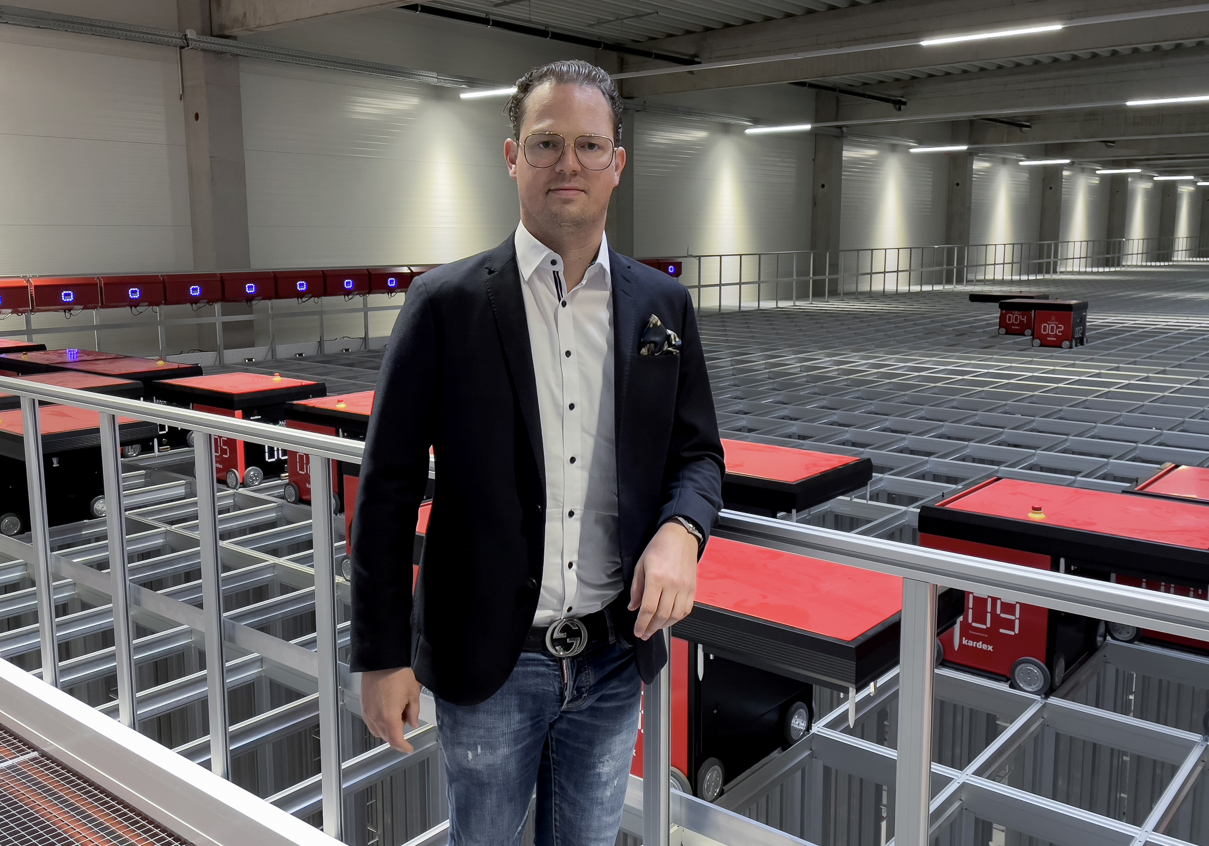 About Kardex
Kardex is a leading intralogistics solution provider of automated storage, retrieval and material handling systems. With two entrepreneurially managed divisions, Kardex Remstar and Kardex Mlog, the Kardex mission is to provide solutions and services to increase the efficiency in storing and handling of goods and materials on a global scale.
The two divisions serve as partners over the entire life cycle of a customer's product or solution. From project analysis to realization and service, Kardex helps improve a customer's performance every step of the way. With three own production plants in Germany and one in North America Kardex ensures high quality solutions. To maintain and strengthen its competitive position within technological innovation and outstanding customer loyalty, Kardex is investing in research and development, its supply chain, the expansion of its service organization as well as in new technology via acquisitions. Kardex actively partners with global leaders who share the same values and complement the Kardex solutions including AutoStore, Rocket Solution, Robomotive, Intertex and Sumobox.

Kardex employs 1,900 team members across 30 countries and has installed over 140,000 industry-specific solutions worldwide.
For more information visit: https://www.kardex.com/en/
Contact
In case of questions, please fill in our contact form.