Kardex optimizes Hitachi Energy's high-voltage service warehouse in Zurich with AutoStore
5 August 2022, Company News
For the reorganization of the spare parts business at the Dietlikon site in the Swiss canton of Zurich, Hitachi Energy was looking for an innovative, sustainable, and exceptionally flexible solution. The global AutoStore partner and intralogistics expert Kardex offered the most convincing overall package and was commissioned with planning and implementing a fully automated AutoStore™ spare parts warehouse.
Zurich, 5 August 2022 – Hitachi Energy is a global leader in high-voltage technology, offering a wide range of high-voltage products up to 1,200-kilovolt (kV) helping enhance the safety, reliability and efficiency of power networks while minimizing environmental impact. The Dietlikon site, where the Kardex AutoStore solution is being implemented, covers all processes for the service components business of the "High Voltage Products" business unit. This includes goods receipt and inspection, storage, picking, packing, and shipping of the service components.
| | |
| --- | --- |
| | "Due to a business transfer, our storage requirements changed from rather large and heavy boxes to smaller components. Our existing storage solutions would have had to be expanded, resulting in more picking points and longer walking distances, which we were able to avoid with an AutoStore solution," explains Patrick Looser, Head of Service Logistics Center at Hitachi Energy. "In order to optimize our logistics processes and use our existing space more efficiently, we have found the right solution in AutoStore, and the ideal partner in Kardex." |
Sustainable, flexible, and highly efficient
AutoStore systems are operated by autonomous high-speed robots that move on a three-dimensional aluminum grid system. Within this grid, storage bins are neatly stacked on top of each other in multiple rows. The battery-powered robots pick up bins from their storage location, rearrange them, and present them to the directly connected workstations (Ports) for picking and replenishment. The highly flexible grid system maximizes storage density and enables four times the capacity in the same footprint compared to traditional manual warehousing. AutoStore's modular design allows for both throughput and storage capacity expansion at any time during operation, enabling AutoStore systems to grow with business needs.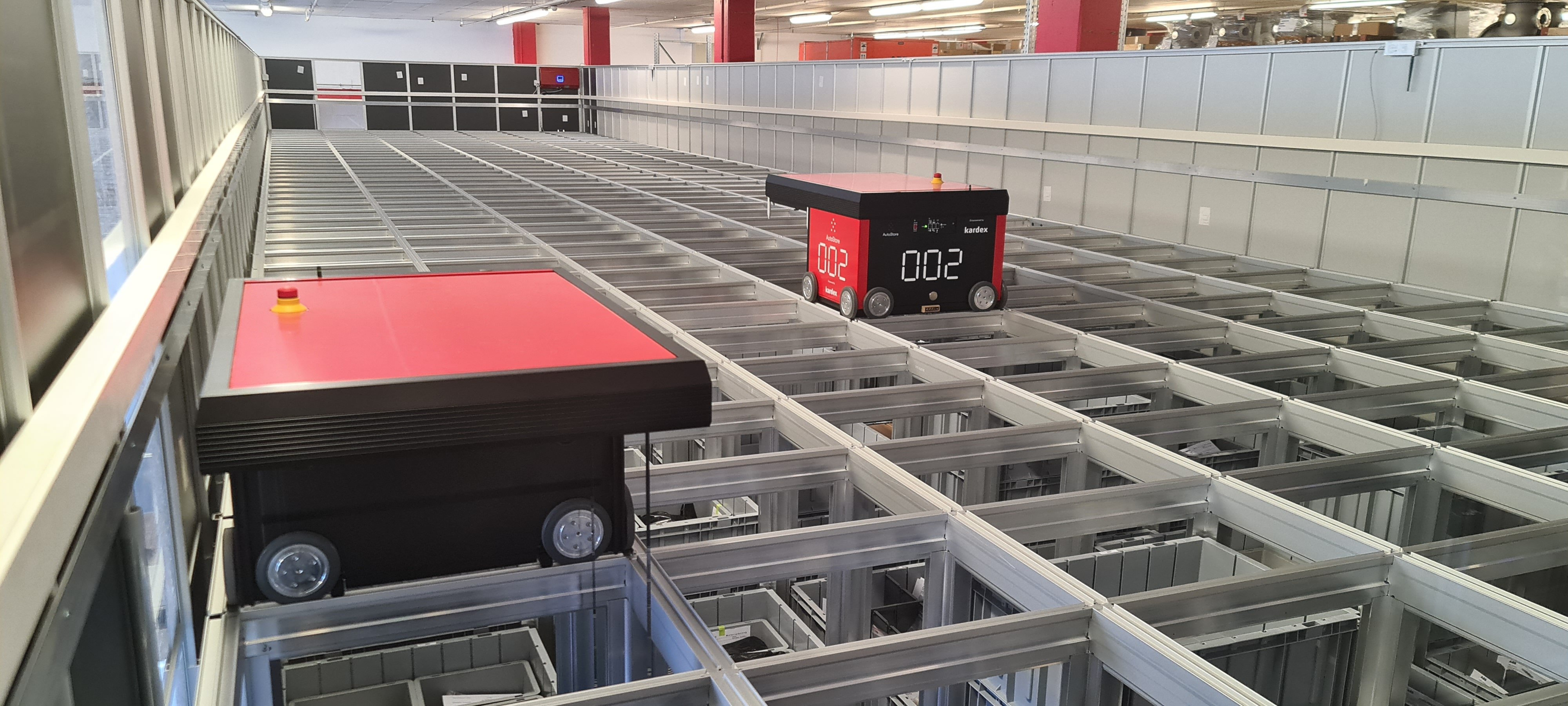 For the customized design of Hitachi Energy's AutoStore solution, Kardex performed several system simulations with real data during the planning phase. The results, which were based on the required operating times for picking and putaway of the service components as well as other customer requirements, led to a system configuration with a total capacity of 3,250 bins measuring 25.6 in x 17.7 in x 8.7 in (l x w x h). In the first expansion stage, the grid will be equipped with 3,000 bins only, two "Red Line" (R5) robots and two Conveyor Ports. Various system extensions are already in the planning. The Warehouse Management System (WMS) Kardex Control Center manages the various warehouse systems and optimizes the connecting processes.
"With our new AutoStore spare parts warehouse, we will be able to react even more flexibly to customer needs and process orders even faster thanks to greater availability of the service components," Looser continues. "In addition, as a pioneer in sustainable technologies, we are setting another important milestone with our investment in AutoStore."

Hitachi Energy is actively working towards a sustainable energy future, which is exactly where the AutoStore technology will make an important contribution in the future. Ten AutoStore robots consume no more energy than a standard vacuum cleaner, and whenever robots lower a bin or reduce speed, power is returned to the batteries. AutoStore's compact design also requires no aisles, decreasing energy consumption significantly by reducing the number of areas that need to be illuminated. With an average availability of 99.6% and "built-in" redundancy, AutoStore is the world's most reliable and efficient storage system.
About Kardex
Kardex is a leading intralogistics solution provider of automated storage, retrieval and material handling systems. With two entrepreneurially managed divisions, Kardex Remstar and Kardex Mlog, the Kardex mission is to provide solutions and services to increase the efficiency in storing and handling of goods and materials on a global scale.

The two divisions serve as partners over the entire life cycle of a customer's product or solution. From project analysis to realization and service, Kardex helps improve a customer's performance every step of the way. With three own production plants in Germany and one in North America Kardex ensures high quality solutions. To maintain and strengthen its competitive position within technological innovation and outstanding customer loyalty, Kardex is investing in research and development, its supply chain, the expansion of its service organization as well as in new technology via acquisitions. Kardex actively partners with global leaders who share the same values and complement the Kardex solutions including AutoStore, Rocket Solution, Robomotive, Intertex and Sumobox.

Kardex employs 1,900 team members across 30 countries and has installed over 140,000 industry-specific solutions worldwide.
Contact
In case of questions, please fill in our contact form.