The new Kardex Compact Buffer utilizes warehouse space from top to bottom and from side to side for long-term partner SHAKE-HAND
24 October 2022, Company News
Five years ago, SHAKE-HAND implemented two Kardex Compact Buffers for efficient and accurate order picking of smaller materials at its facility in Belgium. Based on this success, the company knew Kardex would have a solution on how to navigate the latest challenge: efficiently managing full box picking within a minimal footprint. The recently launched upgraded version of the Kardex Compact Buffer was the answer. The flexible design allows the buffer to extend up to 20-meters, seamlessly maximizing existing warehouse space.
For the past 30 years, the family-operated company, SHAKE-HAND, has played an integral role in the machine and appliance construction industry. Operated by two brothers, the organization focuses on the distribution of standard machine elements for the mechanical engineering industry including grip, (adjustable) feet, hinges, clamps, couplings and more.
P
rior to working with Kardex SHAKE
-
HAND
,
used
static racking
in its warehouse. Realizing its inefficiencies, the company turned to Kardex to implement two
Kardex Compact Buffer
s
.
T
he solution allowed SHAKE
-
HAND to save space and
significantly
improve performance.
Following the success of their 5-year relationship, SHAKE-HAND knew Kardex was the place to turn when the company recently needed to find an affordable mini-load system for full box picking and a higher storage capacity for bin locations.
From all the options SHAKE-HAND considered, they selected three upgraded Kardex Compact Buffers to add to its existing solution. The recently launched version, capable of extending up to 20-meters long, optimizes the entire space of the facility from top to bottom and from side to side.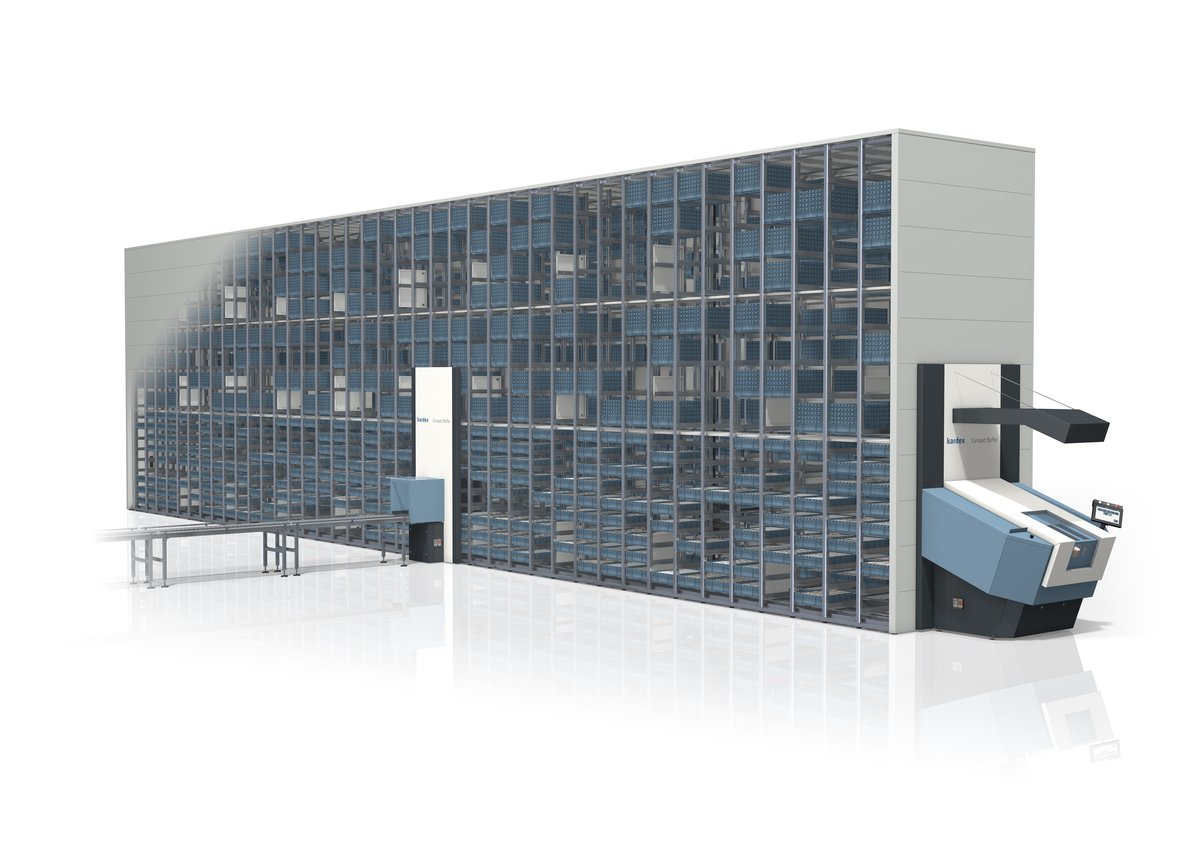 The new and existing units are connected to the Kardex warehouse management software, Kardex Power Pick System and create a fully integrated, efficient, and accurate intralogistics solution. The existing units are used to pick small parts, while the new extended units are used to pick full cartons. The full cartons are stored in Kardex VBM Boxes in 2 different heights. The Kardex Power Pick System has the functionality to consolidate picks from the existing small parts picking zone and from the full carton picking zone. To complete the full intralogistics solution, Kardex also provides a global service care network to manage remote services.
| | |
| --- | --- |
| "We have worked with Kardex for five years and have seen excellent results from the Kardex Compact Buffer. We are very happy with the solution and how it has fulfilled our business needs. With our business growing, we knew we could count on Kardex to help once again. The extended Kardex Compact Buffer was just what we needed to optimize our full bin picking. With its dimensions of up to 20-meters long and 12-meters high, we can use it to maximize our existing space and increase storage capacity." | Niek Lerou, SHAKE-HAND Owner |
About Kardex
Kardex is a leading intralogistics solution provider of automated storage, retrieval and material handling systems. With two entrepreneurially managed divisions, Kardex Remstar and Kardex Mlog, the Kardex mission is to provide solutions and services to increase the efficiency in storing and handling of goods and materials on a global scale.
The two divisions serve as partners over the entire life cycle of a customer's product or solution. From project analysis to realization and service, Kardex helps improve a customer's performance every step of the way. With
its
three own production plants in Germany and one in North America
,
Kardex ensures high quality solutions. To maintain and strengthen its competitive position within technological innovation and outstanding customer loyalty, Kardex is investing in research and development, its supply chain, the expansion of its service organization as well as in new technology via acquisitions. Kardex actively partners with global leaders who share the same values and complement the Kardex solutions including AutoStore, Rocket Solution, Robomotive, Intertex and Sumobox.
Kardex employs 2
,
000 team members across 30 countries and has installed over 140,000 industry-specific solutions worldwide.
Contact
Please fill in the contact form and our experts will help you to find the best solution tailored to your needs.
For more information visit: www.kardex.com